About us
Green Onion Landscaping – Professional landscape gardeners who provide attention to detail on every landscaping project.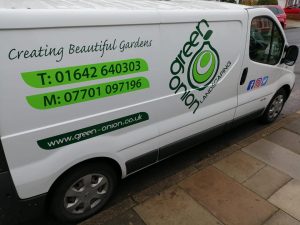 Green Onion Landscaping has been successfully trading as a local garden landscaping business since April 2006. Andy Smith, the owner of Green Onion Landscaping began landscaping in Stockton-on-Tees, Teesside as an apprentice at 17 years of age. Once completed he became a fully qualified, highly skilled, creative landscape gardener, designing and creating beautiful gardens all around the North East of England. After many successful years working for someone else and managing their company, Andy decided to run his own business and so the success that is Green Onion Landscaping was born.
Meet your local landscape gardeners: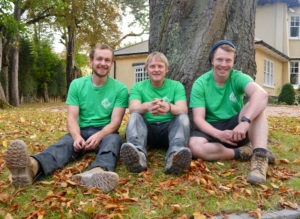 Meet your friendly, professional, local garden landscapers – From left to right we have James, Andy and Niall. All creative, skilled, professional garden landscapers who take great pride in their garden design work and whose creative landscaping talents are second to none. Each team member was chosen because they have a passion for the garden landscaping work they design and create. Our landscaping team are experienced, skilled, helpful and polite. They will provide you with top quality, innovative landscaping services from the designing of your landscaped garden to completion of your project.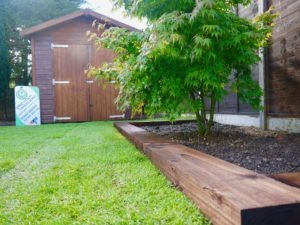 Green Onion Landscaping offer a full range of garden landscaping services, we will confidently deliver every stage of a landscaping project, from design and planning to implementation and day to day maintenance of your completed garden project. We're an experienced local landscaping company with an excellent reputation. We have lots of great on-line reviews for potential clients to read. Green Onion Landscaping work with clients in sectors ranging from the general public and local councils to architects. We always work collaboratively. We are always more than happy to listen to your ideas and offer our professional advice. Give Green Onion Landscaping a call today to find out how we can help you design and create a garden landscape that's functional, beautiful to look at and a joy to relax in.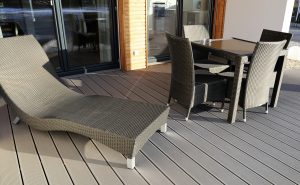 Whether it's fencing, decking, paving, driveways, garden drainage, patio areas, tree planting, planting of shrubs or a larger garden landscaping project, Green Onion Landscaping are the perfect, local landscaping company to transform your garden into a beautiful retreat for you and your family to use and adore.
What is a landscape gardener
Landscape gardeners are creative, practical skilled people who design and create functional, beautiful and relaxing gardens of all shapes and sizes for local councils, universities, private companies and individual clients and their families.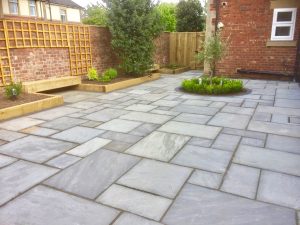 What do landscape gardeners do
Landscapers use their talent for garden design and passion for practical work to design, craft, regenerate and maintain outdoor spaces and gardens in and around Teesside, Tees Valley, County Durham and North Yorkshire.
The creative side of a landscape gardener's job involves two main stages:
Briefing and design. Our landscape gardeners will meet with their client to discuss their wants and desires for the proposed landscaping project. Once a few decisions have been made the landscaper will then produce a series of rough sketches/plans/designs which will be e-mailed to the client.
Once the garden designs are finalised, the landscape gardener will be responsible for taking care of the business side of things: hiring equipment,procuring all of the required materials, such as wood, cement, soil, paving, slate chippings, pebbles etc.
Once it's time to commence with your landscaping project, Green Onion Landscaping's team of professional landscape gardeners are not scared of getting their hands dirty. They'll be planting trees, bushes, flowers, shrubs and all kinds of other greenery. They'll also be responsible for treating lawns and soil with the appropriate nourishing chemicals to ensure they are weed free and healthy all year round.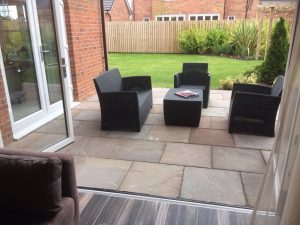 A landscape gardener's job, however, isn't just about the plants. Our landscaping team are also experts at building fences, installing garden drainage systems, erecting gazebos, laying decking, building patio areas, and constructing block paved driveways. Green Onion landscaping's team will even adorn your garden with lighting, furniture, hanging baskets, pots and other finishing touches.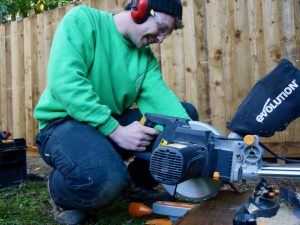 All of Green Onion Landscaping's team have an artistic ability and natural creative flare. This is why they were chosen to work as part of the Green Onion Landscaping team. Each member can design and plan beautiful hard and soft garden landscapes to scale no matter what shape or size your garden may be. We are extremely proud of our skills and abilities to design and create beautiful bespoke traditional or contemporary gardens for all of our clients.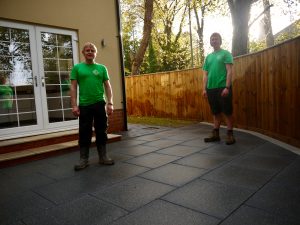 Green Onion Landscaping always take into account their clients' desires and ideas when planning and designing a new garden design or garden landscape. We like to provided our clients' with gardens that are both beautiful in their form and practical in their function.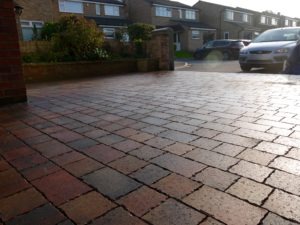 Green Onion Landscaping's team of talented, friendly garden landscapers are recognised in the North East for their innovative, unique garden designs. We have built an excellent reputation as creative, talented hard and soft landscapers over the past 25 years. Our landscaping team work in harmony with each other to produce only the very best, beautiful garden landscapes in Teesside, TeesValley, North Yorkshire and County Durham.
Green Onion Landscaping's team possess a vast amount of hard and soft landscaping knowledge and skills, these are used when designing every client's garden landscape. Each member of our team has their own interesting and brilliant garden stories to tell, however, collectively, as Green Onion Landscaping we have had the pleasure of working in enormous, famous gardens as well as designing and building gardens for domestic and commercial clients. No landscaping project is ever too big or too small. Each garden project we lovingly undertake supplies the team with equal amounts of pleasure from the initial design to the end creation. Green Onion Landscaping are always passionate about their landscaping work.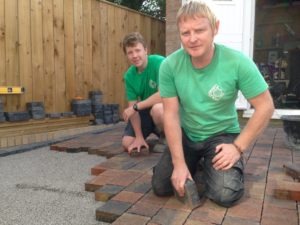 Green Onion Landscaping have designed and created landscaped gardens for some very well known celebrities in the U.K. We are very proud of our achievements and our recognition. We are delighted to say that our garden designs and garden creations do stand our from the crowd and are admired by a great many people and companies.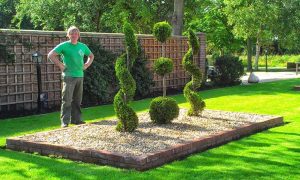 Green Onion Landscaping's team visit all the famous, big garden and flower shows around the U.K. We visit these shows because they specialise in bringing together the very best examples of garden flowers, shrubs and trees, along with up to date landscape garden design ideas all under one roof for public and trade visitors. Attending these events enables our team to see first hand the latest garden design trends which we can then incorporate in to to your hard or soft landscape garden designs. Flower shows also give us access to some of the top garden designers and horticultural experts in the U.K. this gives us the opportunity to learn new ideas and keep up with garden trends.
Green Onion Landscaping are a very popular local landscaping company in the North East. We are extremely lucky that our work diary is always booked well in advance for the year. The majority of our clients are from referrals, however, we do receive many 'phone calls from those of you who have some how stubbled across our landscaping website. Please feel free to call us to book a free hard landscaping quotation.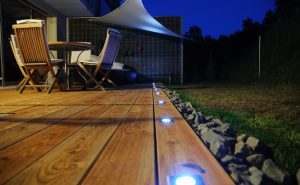 If you'd like Green Onion Landscaping to design and create your garden and you live in Teeside, Tees Valley, North Yorkshire or County Durham i.e. Stockton-on-Tees, Middlesbrough, Darlington, Yarm, Wynyard, Stokesley or any other area in the North East please give our friendly team a call. We are always happy to help you design, plan and landscape your very own beautiful, bespoke hard or soft landscaped garden.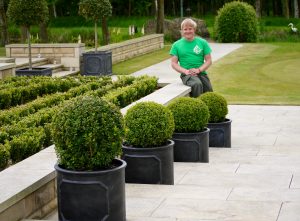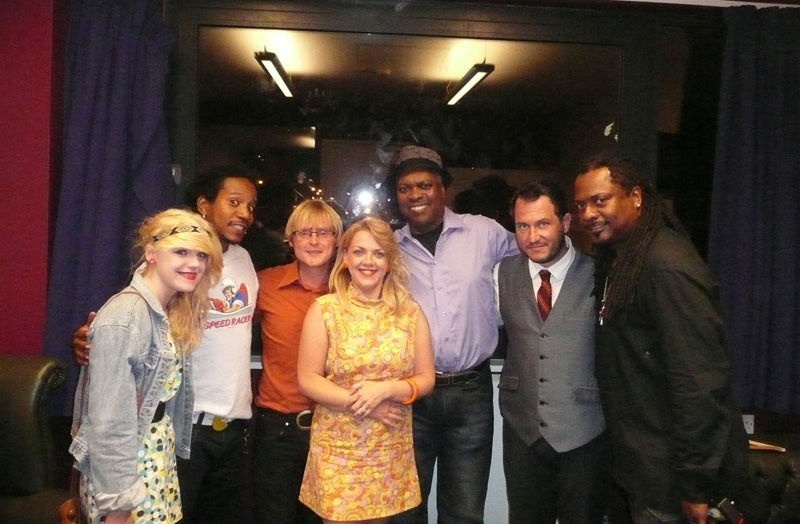 Where did the name 'Green Onion' come from?
The name, 'Green Onion Landscaping' was derived from Andy's love of 1960's Mod and Garage music; in particular Booker T and The MG's musical track 'Green Onions'.
Andy is a very talented musician. The former lead singer and guitarist of Jarvis Humby, a garage/soul band who were signed to the American record label, 'Wicked Cool' in 2007 (Owned by 'Little Steven' Van Zandt, Bruce Springsteen's guitarist/producer).
In 2011 Andy lived his dream. He was asked to support Booker T and The MG's at their ARC gig in Stockton-on-Tees. The night was a storming success. Read the Gazette article here.
What Green Onion Landscaping deliver
Green Onion Landscaping's professional team of landscape gardeners provide all their customers' with bespoke garden design solutions which fit their specifications. Andy and his team of skilled landscapers always ensure that every hard or soft landscape design plan or landscape installation they deliver is practical and aesthetically pleasing. We believe a garden must look beautiful and be usable. These two points are of equal importance when Green Onion Landscaping's creative design team landscape any garden of any shape or size.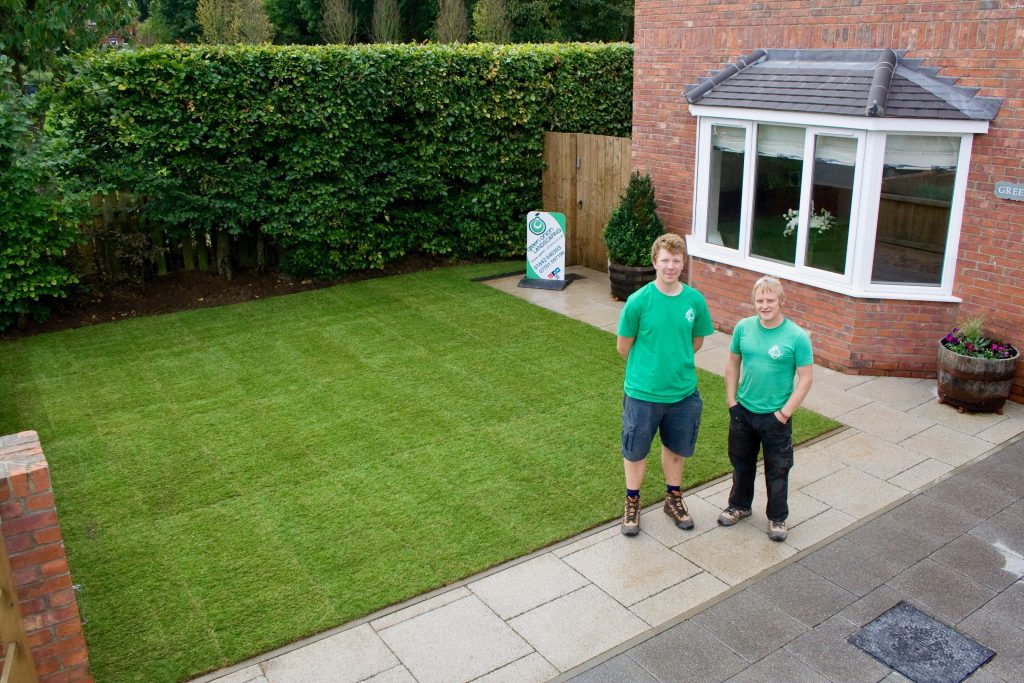 Our Green Onion Landscaping team enjoy creating beautiful, useable, functional gardens' for all of their clients. Landscape design and construction is each team member's passion. Our hard and soft landscaping experts have a wide and vast knowledge of all the landscaping services we deliver. You can view our landscaping services list here.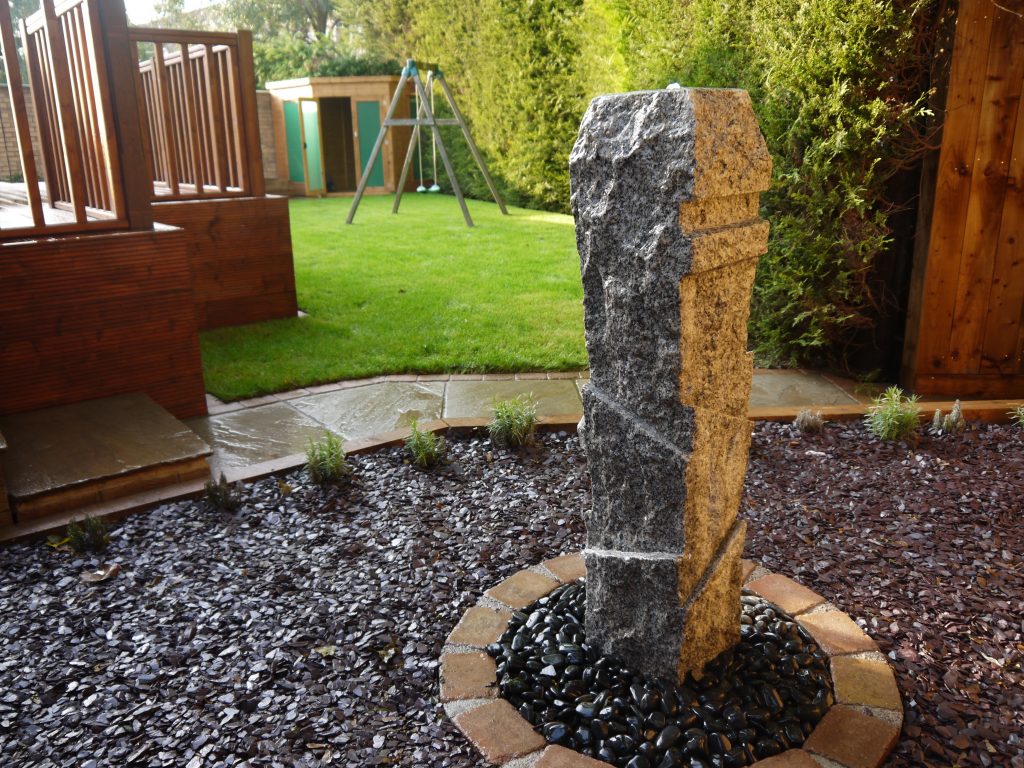 We have access to a vast array of stunning and unusual hard and soft landscaping materials and objects. Our professionals are always more than happy to help you plan and design your perfect garden space. Green Onion Landscaping enjoy creating and bringing your garden dreams and our garden designs to life for you. There's nothing more pleasing than seeing our client's faces light up at the end of a landscaping project. Whatever you'd like in your garden design let us know, we'll be excited and pleased to find it for you.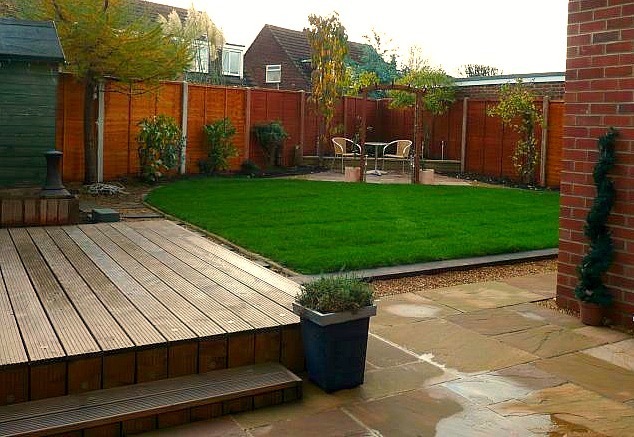 Garden patios, erecting garden fencing, constructing a stunning modern composite decked area or hardwood decking area, garden drainage solutions, providing you with a newly turfed lawn or creating an artificial lawn area. We enjoy the excitement of creating your new garden landscape for you. Whether it be soft landscaping – planting shrubs, trees, plants, bulbs, providing our home made hanging baskets, window boxes or pots. Our team of skilled landscapers will always be as enthusiastic about your landscaping project as our clients are. All of Green Onion Landscaping's team of landscape gardeners are here to help you. Green Onion Landscaping will always provide you with our second to none garden design and landscaping services or garden maintenance services .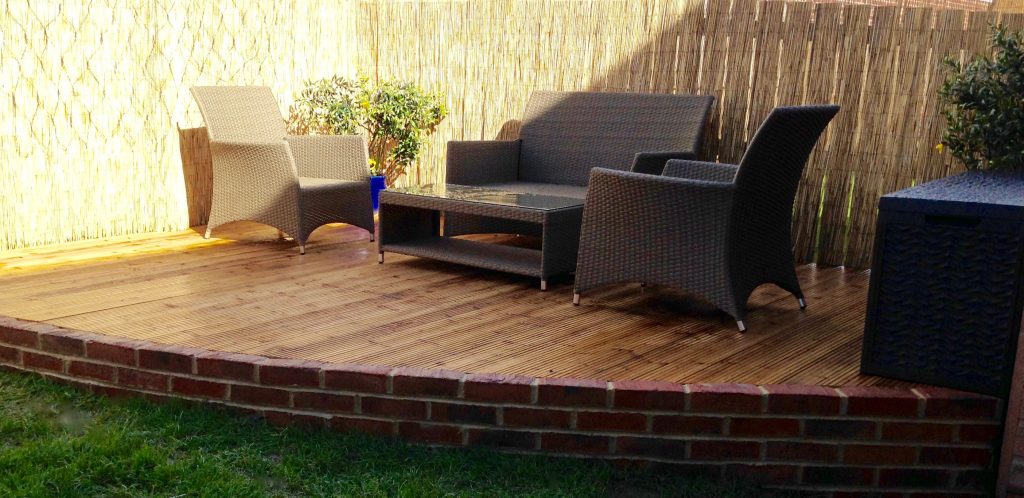 Green Onion Landscaping are hard and soft landscaping design and construction experts. Our fantastic team consists only of landscaping professionals. We design, plan and landscape gardens in Teesside, Tees Valley, County Durham and North Yorkshire. Green Onion Landscaping are based in Stockton-on-Tees. Our team are passionate about every garden landscape they plan, design or install. See our list of landscaping service here.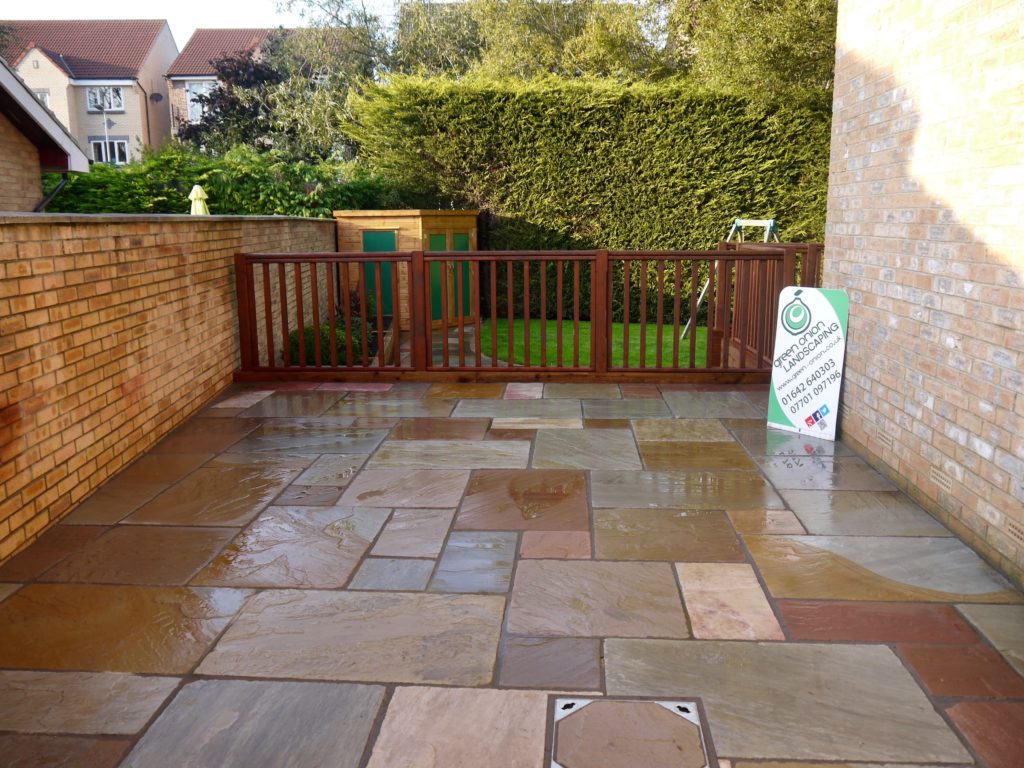 Carefully planned and executed landscape garden design
Form and function are paramount in any of Green Onion Landscaping's soft and hard landscaping designs, just as they are in any natural landscape. Everything in the landscape fits a particular need. The landscape as a whole is only ever benefited by the inclusion of a beautiful object, plant, tree or shrub. Nothing unnecessary and nothing unsightly should ever be included in a truly beautiful landscaped garden. View more photographs of Green Onion Landscaping's work by visiting our Green Onion Landscaping Facebook page here.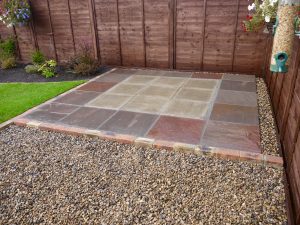 Green Onion Landscaping believe that, just as each customer is an individual, so is each garden space. A garden is a miniature landscape and should be treated as such. This philosophy is applied to every garden landscape design and creation we deliver – Be it a sandstone garden patio, a permeable block paved drive, a composite or timber garden decking area or a complete soft and hard garden landscape re-design. Our team of skilled landscapers will always be happy to apply their professional landscaping skills to transform your hum-drum garden into a relaxing, beautiful haven.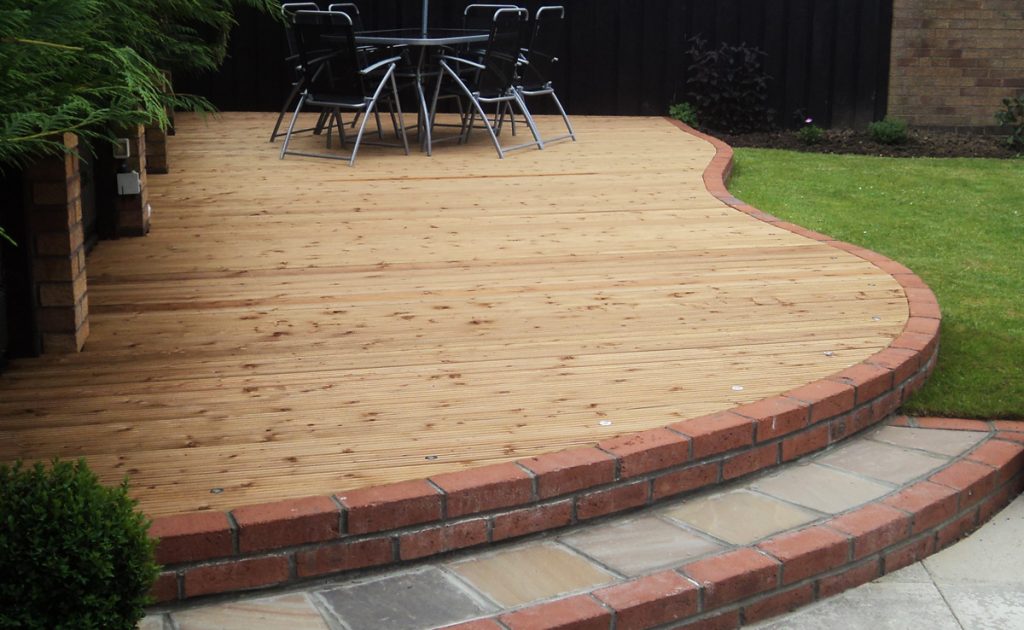 Green Onion Landscaping can build you almost anything: from a sandstone garden patio area for barbecues in the summer, to a practical, fun, adventure play area for your children or grandchildren . Raised railway sleeper or brick built flower/vegetable beds to grow your own fruit and vegetables in. How about a spectacular Cedarwood decking retreat in your garden. You name it, we can design and build it in your garden!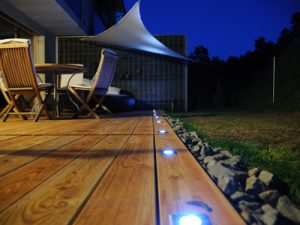 Green Onion Landscaping also provide and install many varieties of garden drainage systems. From French drainage systems, Spider network drainage systems, land drains, soak aways, sump holes. We can install drainage solutions to prevent your garden holding water, being soggy and help prevent it from flooding and causing your property damp or water damage issues.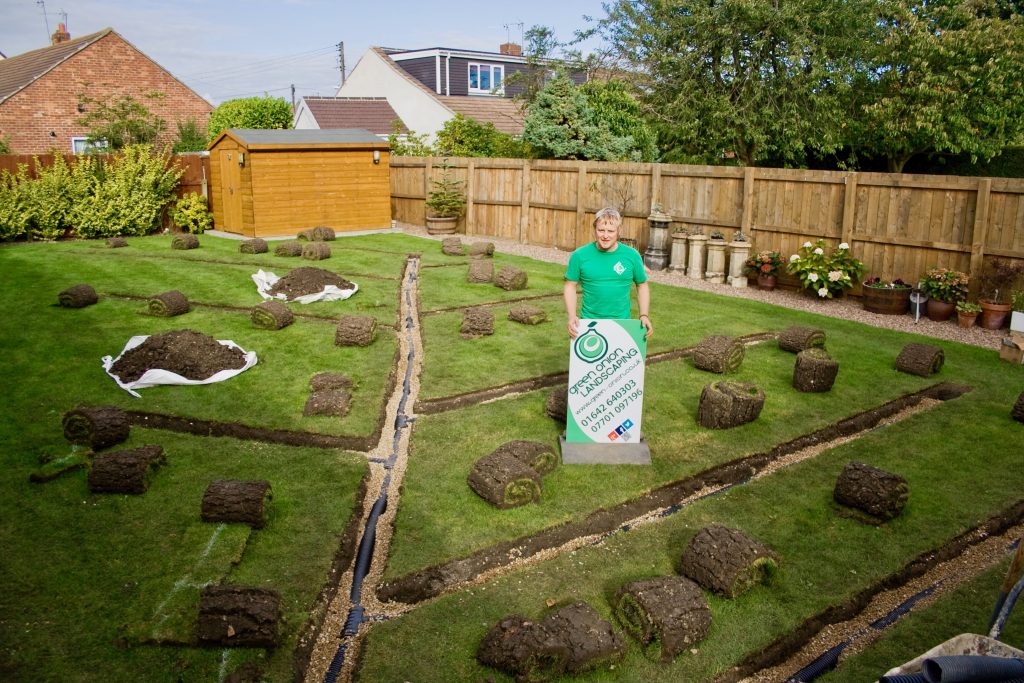 Green Onion Landscaping provide professional soft and hard landscaping solutions for any garden situation. Andy and his team can design and install a beautiful garden landscape that will help you enjoy your garden no matter what the weather or time of the year. We work all year round creating and designing landscaped gardens near you.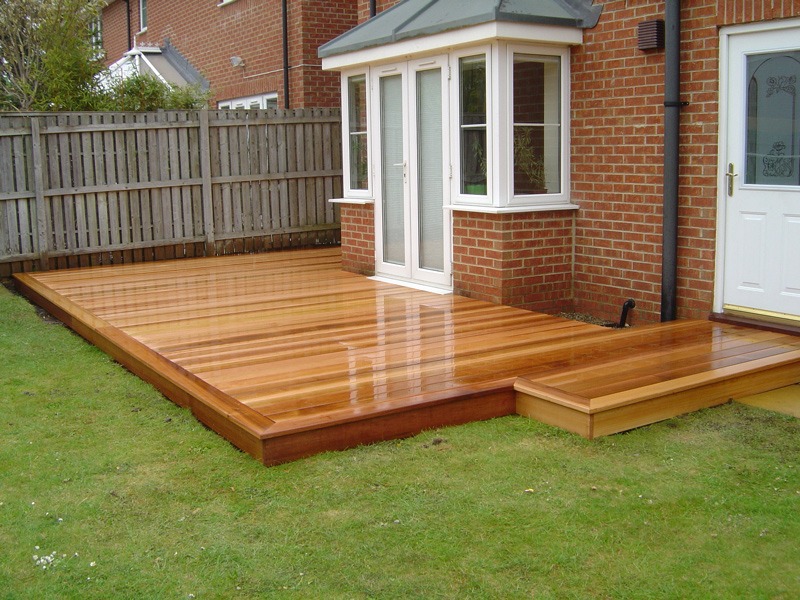 A name you can trust
Green Onion Landscaping have earned an excellent reputation for our outstanding quality or landscaping work. If you chose our skilled team of expert landscapers to deliver your landscaping project for you, we promise that you will not be disappointed with our team of landscapers or our quality of work. Green Onion Landscaping's team pride ourselves on our time management skills, our knowledge and use of landscaping techniques and our outstanding landscaping workmanship.
Green Onion's helpful, friendly team of professionals will only ever create beautiful landscaped gardens. All of our landscaping team are trustworthy, honest, hardworking, skilled, fully qualified, time served hard and soft landscapers. We are known for how quickly, tidily and speedily we work. You can read reviews of our landscaping work here.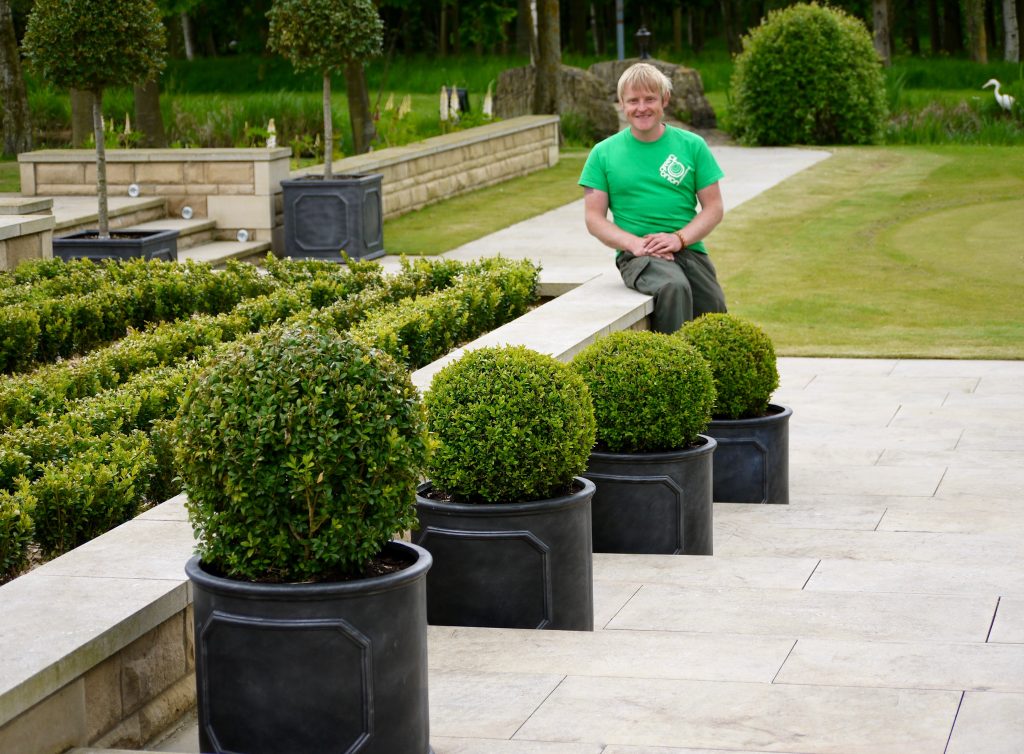 We possess over 50 years combined landscaping experience in planning, designing and creating hard and soft landscaped gardens for the public and private sector in Teesside, Tees Valley, County Durham and North Yorkshire. We love what we do.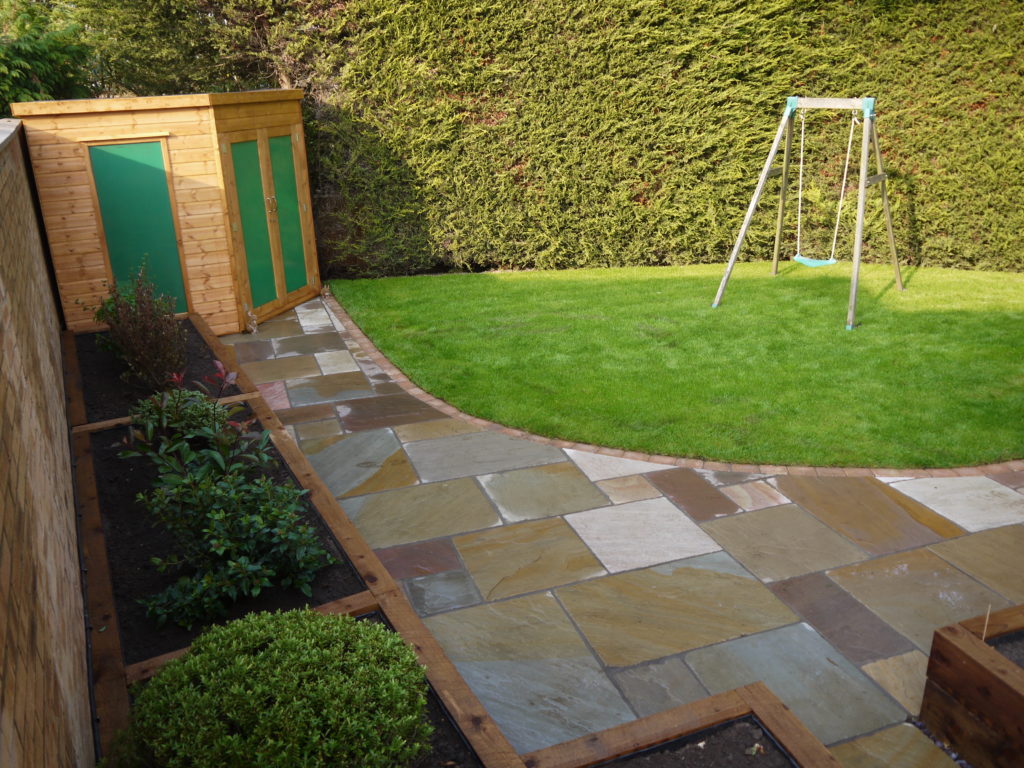 Our team of experienced landscapers possess the professional experience and skills necessary to plan, design and create beautiful, functional garden landscapes for you! We have planned, designed and created thousands of beautiful, bespoke garden landscapes throughout Teesside, including Yarm, Stockton-on-Tees, Wynyard, Hutton Rugby, Stokesley, Carlton, Middlesbrough, Darlington.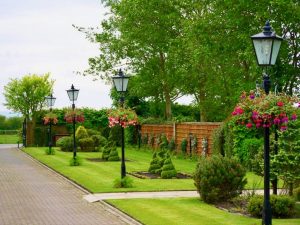 It's the little things
Green Onion Landscaping believe that it's the innovative twists our skilled landscapers provide to every hard and soft garden landscape we design that turn mundane gardens into something truly beautiful and special. We even make large multi floral hanging baskets for the Summer and Winter months.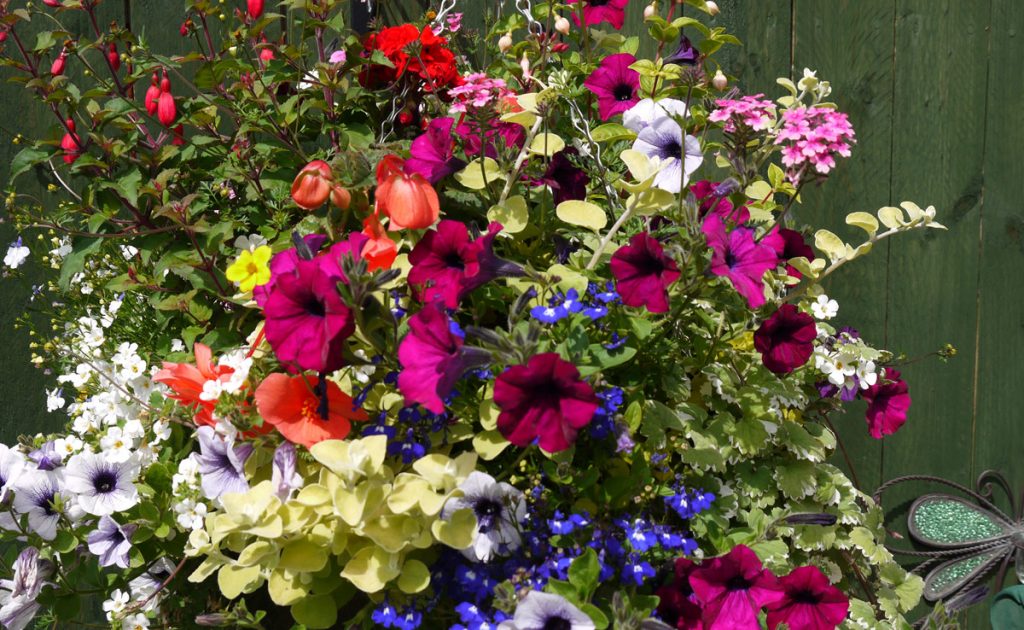 Fancy some twinkling lights embedded into your Cedar wood decking? Garden lighting looks magical on a Summer and Winter's evening. How about a lit up winding garden pathway that flows through your garden landscape drawing the eye to a wooden archway which also serves as decorative trellis. We can do all of this for you easily and quickly.
A beautiful turfed lawn or a stunning artificial grass lawn with feature brick walls. A summer house built on a pretty wooden decked area with a large granite water feature. It's these design touches that make Green Onion Landscaping's garden designs and creations stand out from the crowd. Our expert landscaping team are trained to design and create beautiful, stunning gardens. They know how to dress a garden at the end of the landscaping project for year round colour and interest and for everyday interest. Green Onion Landscaping's creative design and landscaping work is second to none. Just look at some of the many gardens we have had the pleasure of landscaping, designing and constructing in County Durham and Teesside.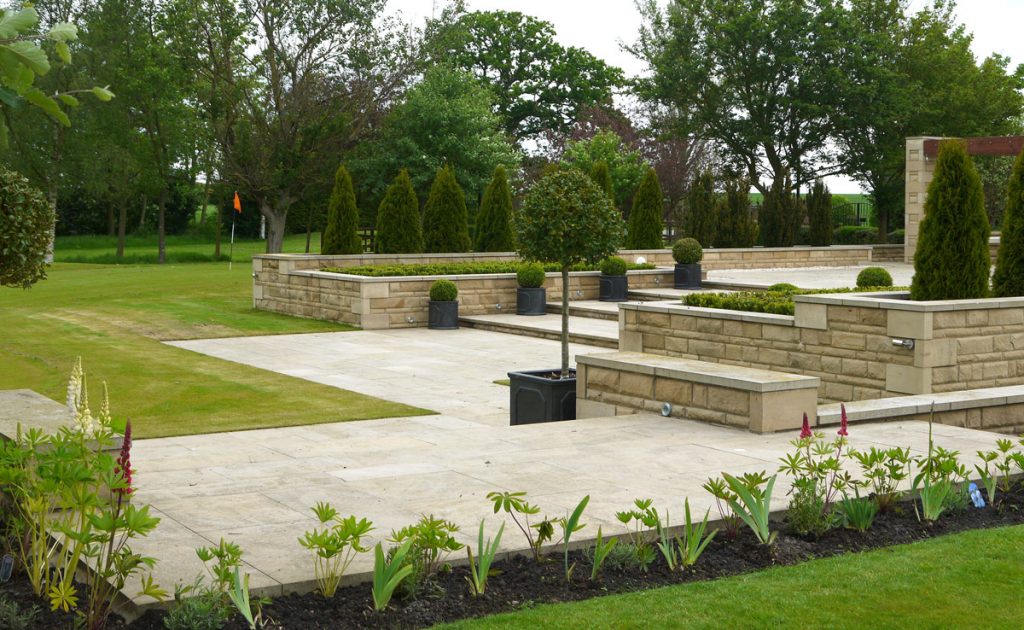 Green Onion Landscaping always endeavor to deliver above and beyond our customers' expectations. Whether you need a complete garden make-over or just a routine garden tidy up and trim of all the garden shrubbery,Green Onion Landscaping will ensure that your garden landscape always looks beautiful, presentable and will provide you and your family with years of pleasure all year round.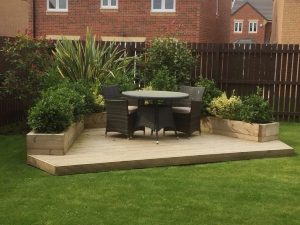 How can we help?
If you would like a beautiful, unique, bespoke garden landscaping project professionally constructed at your home in Teesside, Tees Valley, County Durham, North Yorkshire or anywhere in the North East please give Green Onion Landscaping's friendly team a call. We can beautifully enhance your existing garden landscape with our many landscaping services, including providing and planting shrubs, trees, plants and flowers.
If you'd like a new timber or composite garden decking area or a garden patio laying just give us a shout. Perhaps you simply want your tired old lawn re-turfing or an artificial lawn laying in Teesside, we can do this for you. We are based in Stockton-on-Tees, we always happy to help you make the best garden design decisions for your new garden landscape design. Green Onion Landscaping will visit almost anywhere in Teesside, Tees Valley, County Durham, North Yorkshire or the North East. Quotations for hard landscaping services are free with no obligation to proceed. However, if you live outside of Teesside, Tees Valley, or the North Yorkshire then a fee of £50 will be charged prior to our visit. Green Onion Landscaping's soft landscaping consultations are chargeable and start from £100 per visit dependant upon the size of your project.
Green Onion Landscaping hold full public liability insurance which can be viewed upon request by any of our clients.
Get in touch today
We'd love to help you bring your ideas to life!