Green Onion Landscaping's beautiful, decorative Moroccan encaustic wall, ground and floor tiles are handmade and hand painted in Morocco. We have an amazing 50 plus vibrant, colourful patterned tile colours to choose from. Whether you're wanting elegant and timeless tiles, eclectic and vibrant tiles, simple black and white tiles or a mixture of our colourful patchwork Moroccan tiles, these tiles will provide a stunning focal point in your garden or your home. Look at this beautiful tiled wall in this garden. Created using our encaustic Moroccan tiles which are patios, alfresco paved dining areas and much more.
These gorgeous, decorative tiles are ideally suited for patchwork floors, bathrooms, patios, paved areas or splash backs in kitchens. Our collection of Moroccan cement tiles with their amazing graphic designs create a happy, vibrant feel in your home or garden. Encaustic tiles look exquisite, they're also extremely durable, they're thicker than many other types of glazed clay tiles. This means that Moroccan encaustic tiles will stand up to wear and tear for many years without any issues. Also the maintenance of these tiles is extremely easy.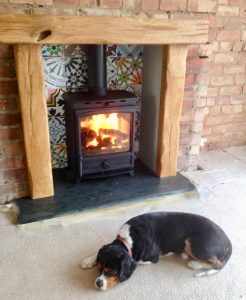 If you're looking for something completely unique for your new garden design then Moroccan cement tiles are what you're looking for. These tiles are beautiful and totally unique. We can even create your own design of tiles for you. You can use our tiles for garden walls, feature walls, interior walls, fire surrounds, patios, paved areas or interior and exterior floors. Green Onion Landscaping have stock patterns, colours and funky, eclectic tiles available immediately to have delivered to your door. We can also offer a bespoke tile picking service. This means you can choose which tiles you'd like in your mix. We can also have any design of tile created for you.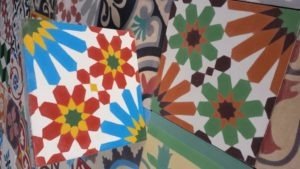 Maybe you have a Victorian tiled hallway that needs some of the tiles replacing. If you have a photograph of your tiles we can have a batch of identical replacement tiles made especially for you. You can use our unique, bespoke, interesting tiles anywhere in your home. Dare to be different. Think outside the box. Create a beautiful kitchen or garden that is specifically to your taste using our Moroccan tiles designed by you. No-one else will have the tiles you've designed in their home. If you can draw it, we can make it. It's great to be different. Stand out from the crowd.
About encaustic tiles
Our encaustic tiles are hand made in Marrakesh. They are not fired, they're dried in the heat of the Moroccan sun and then hand painted. Due to the handmade nature of these gorgeous tiles their edges may be slightly uneven and their surface may be very slightly undulated. There may also be tiny chips or cracks, these are deliberate and only add to the rustic style of these fabulous tiles. The colour of the clay used to make the biscuit may vary from cream tones through to peach, pink, dark red or brown. Where any glaze has been deliberately rubbed away you will see the colour of the clay.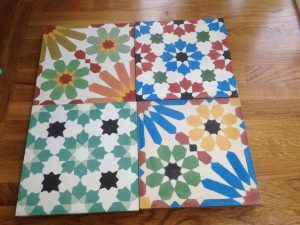 How are Moroccan encaustic tiles made
These extremely hard, heavy, durable tiles are made using a process which is centuries old. Moroccan tiles are created using marble, cement and natural mineral pigments. The cement tiles are created using 3 layers. These layers undergo intense pressure from a hydraulic press. Moroccan cement tiles are not fired. The pressed tiles are soaked and then left to cure naturally in the baking heat of the sun. Each Moroccan tile you receive has been individually hand made and hand painted by an artisan in Morocco. Each tile is an absolute work of art. There will be subtle variations in each tile hand made tile, this is a part of their utter charm and beauty.
Colours & designs available
You can choose any Moroccan tile you like in any of the colours shown below. You can mix and match your Moroccan tiles or you can have one tile design, the choice is yours.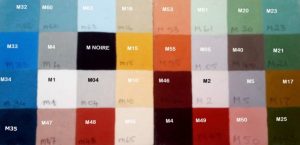 Sizes
Each tile measures 20cm x 20cm x 1.6 cm
Pricing
Random mix of patchwork Moroccan tiles = £100 per 1 m2, plus delivery which is £48 + VAT ( this is from the delivery company we use).
Bespoke tile picking service = £130.00 per m2 + delivery
Delivery prices
A delivery price will be quoted once we know how many m2 of tiles you require. It is worth noting that delivery is quoted per palette of tiles.
1 palette = 27m2 of tiles
1 palette holds 62 boxes, each box contains 13 randomly selected tiles. You will receive 806 randomly selected tiles. Please note that you will receive some duplicates in your selection, this is out of our control unless you specify that you want a bespoke mix of tiles in which case the m2 price will increase to £130 per 1 m2.
Moroccan handmade cement tiles can be used inside, outside, on floors and on walls. These tiles are suitable for public areas, hotels and outdoor patio areas. They are beautifully vibrant and unusual, perfect for someone that wants something bespoke and different to everyone else. You can use them in your conservatories, sun rooms, on your kitchen walls, floors, in your bathrooms or ensuite. Moroccan cement tiles really are absolutely stunning and their colours will not fade.