Garden hedging can be used to form boundaries in your garden, to add structure and shape to gardens as well as offering security and ideal habitats for wildlife and nesting birds. The majority of Green Onion Landscaping's clients' prefer evergreen garden hedging in their garden spaces. Ever green hedges supply colour in the garden all year round. Evergreen hedging can be much more costly than deciduous hedging, however they do offer many benefits in giving privacy, disguising unattractive features in yours or your neighbours garden, providing safe nesting places for the birds and a great back drop to any other colourful plant you may put in front go them.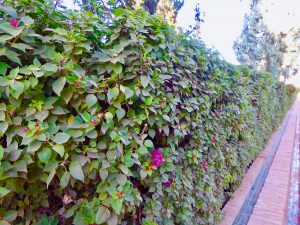 Green Onion Landscaping offer:
Bare root hedge planting which is low in cost
Pot planted garden hedges which can be a little more expensive however the specimens tend to be larger than bare root plants
Semi mature garden hedging plants for instant screening and hedging, this of course this will be more costly but gives an instant, beautiful hedge.
There are many different types of garden hedges i.e decorative hedges, statement hedges, security hedges to name but a few. There are also a multitude of various hedging plants to chose from to create a garden hedge. Let's take a look at our most popular hedging ideas and the hedging plants you can chose to create these.
Intruder hedging/security garden hedges:
Pyracantha (Firethorn) – This is one of our top requested hedging plants for garden/boundary security. It has extremely dangerous thorns, it's evergreen, has very pretty, creamy/ white fragrant flowers in summer and in winter it produces profuse berries in red, orange or yellow. This is a fantastic hedge to use for a secure boundary garden hedge. The growth rate of Pyracantha hedging is 30 -40 cm per year. Green Onion Landscaping can supply these hedging plants to you at 1.5 -1.75m in height to create an instant and effective security hedge in your garden.
Hawthorn – (Quickthorn) – Hawthorn hedges are typically used by farmers, they can provides miles and miles of beautiful hedging. Hawthorn's pretty spring green leaf is very attractive. It has a wonderful blossom and produces red Hawthorn haws so profuse that the entire bush looks a stunning bright red colour in winter. It is deciduous although it has a very strong network of thorns and strong branches. Wild life and nesting birds love Hawthorn hedges.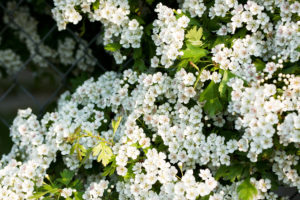 Buxus Box hedging and shaped Buxus Topiary
Why not add a bit of interest to your garden, some structure and shape. You could use Buxus hedging to create a beautiful, ornate garden hedge. This is one of our landscaping projects in Whinney Hill, Stockton, Teesside.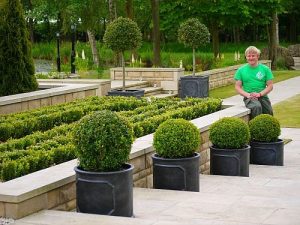 Coastal garden hedging – Providing hedging for a sea side garden can be a bit of a challenge due to the winds and sea salt spray. Not many plants like these conditions. Here's a few great coastal hedging plants Green Onion Landscaping has chosen as ideas for you.
Escallonia – A stunning garden hedging idea- Another stunning example of a plant which can create an evergreen hedge. Escallonia's dark shiny leaves long flowering period of red, pink or white flowers make this one super attractive plant to use for your garden hedging. We would not recommend using this for a hedge in very cold coastal areas as it can lose leaves if it gets too cold.
Griselinia hedging – A gorgeous evergreen hedging plant with bright apple green leaves, Griselina provides a year round beautiful, fresh, healthy looking hedge.
Cherry Laurel or Common Laurel (Prunus Laurocerasus) – Laurel hedging plants have glossy bright green leaves, they're very good at keeping their leaves in the winter, they're fast growing and very easily grown almost anywhere.
Privet ( Ligustrum Ovalifolium) – Privets make excellent hedges, even in highly polluted areas. They're fast growing but will loose some leaves in a very cold winter.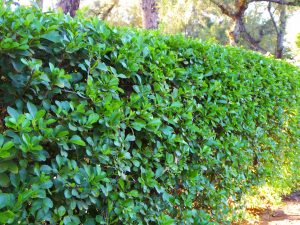 Yew (Taxus Baccata) – Yew trees are considered the King of all hedging plants. Their luxurious, lush, dense, very dark green foliage gives these trees a very regal, expensive look. Yews are slow growing, however they are relatively easy to maintain.
Photinia Red Robin (Photinia x fraseri 'Red Robin')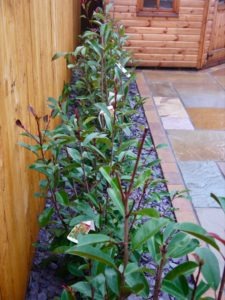 Photinia are stunning hedging plants. Photinia's leaves are dark green, new growth comes through bright red and stays red for the Summer and Autumn. This is a wonderful evergreen hedging plant.
When to plant your garden hedging
If you're thinking of planting a semi – evergreen garden hedge such as Privet, Box or Yew then this should ideally be carried out in early autumn through to late winter. Deciduous hedges for example Beech, Hornbeam or Hawthorn should be plated in mid autumn to late winter. Green Onion Landscaping will help you to choose which type of hedging plant would best suit your garden's needs. There are of course many types of shrubs/trees that can be used for hedging in your garden. Visit Green Onion Landscaping's soft landscaping page for more planting ideas. Green Onion Landscaping offer free quotations. We will help you chose the right type of boundary or decorative hedging for your garden landscape.