Artificial lawns & fake grass
Find out how you can ditch that lawn mower!
Green Onion Landscaping's artificial lawns and our installation service is second to none. Our fake lawn installation team will only use the highest quality artificial grass lawn products. Our friendly team of garden landscapers are trained to install your artificial grass lawns to the best standards available. Your neighbours' and friends' will not be able to visually tell whether your lawn is real grass or fake grass.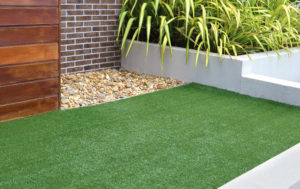 Green Onion Landscaping are the most talked about installer of imitation grass lawn products in the North East. It's no wonder, we pride ourselves on the fact that all of our team are trained to the highest of standards using the newest artificial lawn laying techniques available. Green Onion Landscaping not only provide all their clients' with the very best artificial lawn products available on the market, but with our friendly, professional, quick, cost effective installation services too. We are confident that our landscaping work is far superior to any other landscapers in Teesside, Tees Valley, County Durham and North Yorkshire. Children and dogs love our artificial lawns too – Look!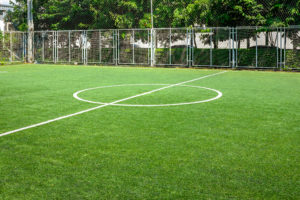 Artificial lawns and artificial grass were once famous for only being used by some of our largest sport's clubs. Now artificial grass and artificial lawns are being installed in many of your neighbours' gardens, local parks, back yards and even on flat roof tops in Teesside, Tees Valley, North Yorkshire and County Durham. Let us help you to enjoy your garden lawn all year round, we can provide and lay your new artificial lawns in time for the summer. Just think, no mowing, no weeding. Just relaxing and enjoying your new artificial lawns.
Call Green Onion Landscaping for your free artificial grass and artificial lawn quotations 01642 640303 / 07701097196
We specialise in:
High quality artificial lawn installation

Recommending the best artificial lawn for your application

Designing your garden around your new lawn

Recommending the best ways to maintain your new lawn
Is an artificial lawn better than the real thing?
Whether artificial grass is better for your garden depends upon your individual tastes and of course your family circumstances, outdoor lifestyle and property type. Natural grass turfed lawns are fantastic for our clients that want the real thing and who have the time to tend to their garden lawns. Green Onion Landscaping can also supply and lay a real turf lawn for you, to see our turfing services click here. Artificial lawns can provide families with a really good, low maintenance garden lawn with a practical hard wearing surface for the children to play on or, for the adults and children to play sport on. An artificial lawn can also suit those of us who live in a city and have very busy lives. Or elderly and disabled people who may struggle to mow their real grass lawns.
Appearance of Artificial grass
Most people's objections against fake grass is it's appearance. It's very easy to assume that an artificial lawn will look very different from the real thing. Surprise… This is no longer true. Fake grass and artificial lawn products have come a very long way in terms of their realistic appearance. It is also possible to install fake grass in differing lawn shapes so you really can have the artificial lawn of your dreams! Prices for artificial lawns – The important thing is to remember you get what you pay for! Green Onion Landscaping will always recommend that if you're going to go to the expense of having an artificial lawn installed in your garden choose the best quality, most realistic looking fake grass we offer. Cheap fake grass and artificial lawn products will appear noticeably unreal, its texture may be uncomfortable underfoot. It also will not last as long as a good quality artificial lawn. Green Onion Landscaping charge 65 per m2 this includes all your ground preparation, supply of a top quality fake lawn product of your choice, (we have samples for you to view) and the professional installation of your new artificial turf lawn. We will also dispose of all the waste materials from your landscaping project.
How long will my artificial lawns last?
As already discussed, if you opt for very good quality artificial lawns these will tend to have a lifespan of 15 years. Another huge plus to an artificial or fake lawn is it will cost you practically nothing to look after or maintain, especially in comparison to a real grass lawn. Having the perfect garden lawn doesn't have to be hard work – Artificial lawns can help you get your garden landscape looking superb and beautifully fresh in an instant and you can keep your artificial lawns looking great all year round too.
Artificial Lawns
Green Onion Landscaping have been providing their clients with artificial lawns for many years. We have an impressive portfolio of artificial turf lawns, astro turf lawns, artificial grass and fake lawn products all of which were supplied and fitted by our team of expert garden landscapers. We offer our clients a good variety of different coloured grasses, various lawn and grass textures and differing pile heights for your new artificial grass lawn.
Green Onion landscaping are specialists in installing artificial lawns. Our team can provide a high quality artificial lawn product to suit every garden lawn project. We have successfully installed artificial lawns and artificial grass products next to patios, pool sides , in lots of back gardens and even back yards in the North East of England.
To find out more about our artificial lawn installations and ditching your lawn mower, please call Green Onion Landscaping for a free quotation Tel: 01642 640303 / 07701097196
Artificial lawn projects and blogs
Get in touch today
We'd love to help you bring your garden landscaping ideas to life!