Garden hedging can be used to form boundaries in your garden, to add structure and shape to gardens as well as offering security and ideal habitats for wildlife and nesting birds. The majority of Green Onion Landscaping's clients' prefer evergreen garden hedging in their garden spaces. Evergreen hedges supply colour in the garden all year round. Evergreen hedging can be much more costly than deciduous hedging, however, it offers many benefits in giving privacy, disguising unattractive features in yours or your neighbours garden, providing safe nesting places for the birds and a great backdrop to any other colourful plant you may put in front of them.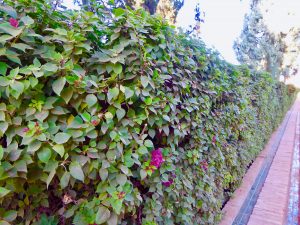 Green Onion Landscaping offer:
Bare root hedge planting which is low in cost
Pot planted garden hedges which can be a little more expensive however the specimens tend to be larger than bare-root plants
Semi mature garden hedging plants for instant screening and hedging, this, of course, this will be more costly but gives an instant, beautiful hedge.
There are many different types of garden hedges i.e decorative hedges, statement hedges, security hedges to name but a few. There is also a multitude of various hedging plants to chose from to create a garden hedge. Let's take a look at our most popular hedging ideas and the hedging plants you can choose to create these.
Intruder hedging/security garden hedges: