About us
Green Onion Landscaping – Professional landscape gardeners who provide attention to detail on every landscaping project.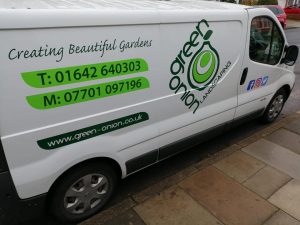 Green Onion Landscaping has been successfully trading as a local garden landscaping business since April 2006. Andy Smith, the owner, began landscaping in Stockton-on-Tees, Teesside as an apprentice at 17 years of age. Once completed he became a fully qualified, highly skilled, creative landscape gardener, designing and creating beautiful gardens for many families and companies all around the North East of England. After many successful years working for someone else and managing their company, Andy decided to run his own business and so the success that is Green Onion Landscaping was born.
Meet your local landscape gardeners: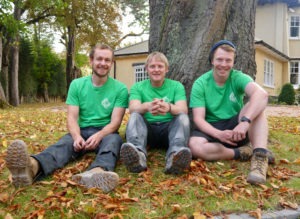 Meet your friendly, professional, local garden landscapers – From left to right we have James, Andy, and Niall. All creative, skilled, professional garden landscapers who take great pride in their garden design work and whose creative landscaping talents are second to none. Each team member was chosen because they have a passion for the garden landscaping work they design and create. Our landscaping team is experienced, skilled, helpful, and polite. They will provide you with top quality, innovative landscaping services from the designing of your landscaped garden to completion of your project.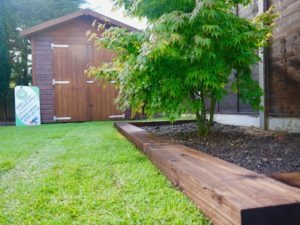 Green Onion Landscaping offers a full range of garden landscaping services, we will confidently deliver every stage of a landscaping project, from design and planning to implementation and day to day maintenance of your completed garden project. We're an experienced local landscaping company with an excellent reputation. We have lots of great online reviews for potential clients to read. Green Onion Landscaping work with clients in sectors ranging from the general public and local councils to architects. We always work collaboratively. We are always more than happy to listen to your ideas and offer our professional advice. Give Green Onion Landscaping a call today to find out how we can help you design and create a garden landscape that's functional, beautiful to look at and a joy to relax in.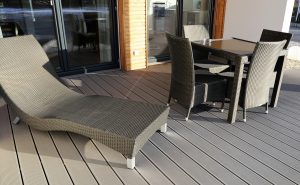 Whether it's fencing, composite or timber decking, paving, a new lawn, an artificial lawn, a new driveway, garden drainage, patio areas, tree, and shrub planting or a larger garden landscaping project, Green Onion Landscaping are the perfect, local landscaping company to transform your garden into a beautiful retreat for you and your family to use and enjoy.
What is a landscape gardener
Landscape gardeners are creative, practical skilled people who design and create functional, beautiful, and relaxing gardens of all shapes and sizes for families, local councils, universities, private companies, and individual clients.