Garden lighting
Light up your garden landscape and give it an attractive ambiance on a summer or winter evening with Green Onion Landscaping's expert garden lighting installers.
Green Onion Landscaping only install garden lighting as part of a landscaping project. If you're looking for garden lighting or garden electrical socket installation as part of your landscaping project in Stockton, Middlesbrough, Darlington, County Durham or North Yorkshire Green Onion Landscaping are here to help you.
Garden Lighting installed by Green Onion Landscaping in the steps of our client's new timber decking.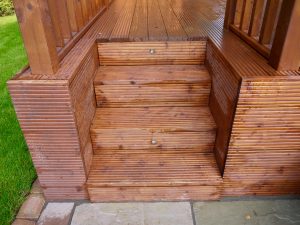 Any outdoor or indoor electrical work carried out by Green Onion Landscaping's electrician is approved and given 'The Building Regulations 'Part P' Compliance certificate.' This is a government-approved registration scheme for electrical installers (NAPIT). All of Green Onion Landscaping's out-door electrical work is completed by our fully qualified electrical installer.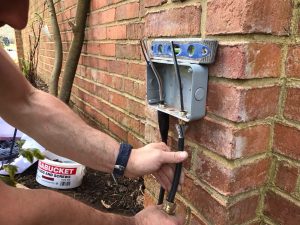 Outdoor garden lighting can make an ordinary garden landscape look spectacular, highlighting your landscape's best features and leaving the rest masked by darkness. With careful placing out-door lights can reveal a side of a garden landscape that is invisible during the day time the silhouettes of trees, textures in bark and brickwork, and the play of shadows on a path or wall. Outdoor lighting can create illusions too, both space and intimacy. A seat facing towards a brightly lit garden border will feel more private for being in the dark even if during the day time the same seat is marooned in light the middle of the garden lawn.
Garden Lighting
Using garden lights is a great way to light up your garden landscape and provide it with an attractive ambiance on a summer evening. Or create an enchanted garden on an evening. Lighting also makes life simpler and safer on those Autumn evenings when it starts to get dark earlier. Coloured garden lights give illuminated features a two – dimensional effect, making it difficult to work out how large or distant the illuminated object is. Lights shining across the surface of the water has a similar effect, disguising the bottom of even the most shallow pool and making it appear extremely deep. There is a vast array of beautiful, good quality, garden lighting available on today's lighting market. Lights will make your garden look and feel elegant. You can avoid all the stress of underground cable and disturbance by getting Green Onion Landscaping's qualified, friendly electrician to install your lighting for you. Our garden lighting, garden sockets installers are fast, efficient, professional and importantly qualified. You will also be supplied with the appropriate Building Regulations Part P Compliance Certificate upon completion of all our electrical work, proving your electrical work is legal and above-board.
If you're looking for garden sockets, garden lighting advice or garden lights to be installed in your garden decking, patios, paving, or anywhere in your garden give us a call. Our garden lighting quotations are free with no obligation to proceed. Call 01642 640303 / 07701097196