Jet washing
Is your patio, paving, driveway or decking in need of a powerful blast to clean it, Green Onion Landscaping's powerful jet washing service is just what you need!
Jet washing is especially suited to heavily soiled concrete, paving stones, block paved driveways, and composite or wooden decking. If you have a patio, paved area, or a driveway that has many years of dirt ingrained into its surface, or decking that has a layer of moss from the winter, industrial jet-washing is the only way to restore it to its former glory. Give Green Onion Landscaping a call for a free quotation.
Jet Washing
A Jet washing machine is a powerful cleaning machine that pumps a jet of water, or water mixed with detergent, through a handheld tube, or wand, onto the driveway, decking area, patio or paved area you want to clean. A jet wash will always get things much cleaner than you ever could by traditional hand cleaning with a brush
Using a pressure washer
Green Onion landscaping's professional pressure washing /jet washing service will get rid of unwanted algae, lichen, and moss that's covering your patio, driveways, or paving. We can help you skip the hard work of having to use a manual scrubbing brush. The powerful jet pump and narrow nozzle make pressure washers blast water in an extremely forceful spray, this will remove dirt quickly while using less water than you would if you were to use a garden hose.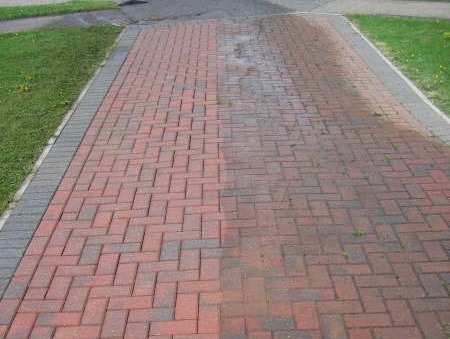 The picture above shows a block paved drive area half way through the jet wash cleaning process. As you can see jetwashing is extremely effective at removing unwanted grime, weeds, moss and lichen. Green Onion Landscaping understand the importance of maintaining / cleaning your expensive paths, patios and block paved drives. A professional jet washing service will make your drab, dull patios and blocked paved drives look bright and new again. Give Green Onion Landscaping's friendly staff a call and we will tell you if your surface is suitable for jet washing: some surfaces can't take the intense pressure from the water jet and could be badly damaged i.e sandstone. Don't take a risk, if you're unsure and don't know if you should try jet washing something, give us a call and find out.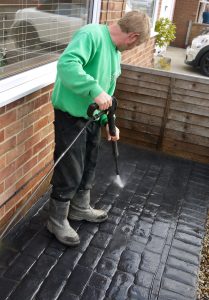 Using specialist high pressure equipment Green Onion Landscaping's team will Jet-wash your driveways, patios, path surfaces and garden furniture leaving them uniformly clean. Our professional jet washing equipment will also eliminate the unwanted stripes which domestic cleaning machines can leave.
Cost of jet washing
Green Onion will charge you approximately £6 per square metre obviously this will depend on the degree of dirt that needs to be removed from the area requested. An inspection of the area to be cleaned will always be carried out prior to any work commencing.
Perfect for:
Homes

Businesses

Schools

Councils

Car parks

Garage forecourts

Pubs a