Hanging Baskets
Beautiful hand-arranged Winter & Summer hanging baskets delivered locally
Green Onion Landscaping's enchanting home-grown Winter and Summer Hanging Baskets make perfect gifts for your friends and family. Show someone special how much you care, purchase one or two of our wonderful baskets. Each is priced according to it's size and contents. We lovingly create beautiful, vibrant, large mixed flower hanging baskets at £40 each or a variety of smaller Fuchsia baskets at £30 each. Below is an image of our wonderful, vibrant Winter hanging baskets.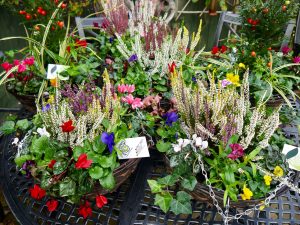 Our flourishing Winter and Summer flower baskets can be collected or delivered to you (£5 delivery charge in Teesside) the choice is yours. Our beautiful array of scented baskets will all arrive in bud/ early flowering stage, freshly fed and watered, ready for you to hang in the place of your choice.
Green Onion Landscaping's vibrant, blooming Winter and Summer baskets are made to order in advance of the summer season. Each one is expertly planted using only the highest quality, British grown flourishing plants. Each one has been lovingly created, fed and cared for by Catherine Smith our Creative Soft Landscaping Expert before it's delivery to you. All of Green Onion Landscaping's flower baskets contain an abundance of flourishing mixed coloured Fuchsias or bright and cheery Fuchsias of the same variety. Our 16 inch multi floral baskets contain a medley of stunning, trailing, vibrant, flowering and budding plants. We use trailing Fuschias,trailing Liquorice plants,trailing Nepeta,Geraniums in red, pink or white, mixed Lobeila, trailing Petunia in a mixture of colours, Lantana, Begonias and much more.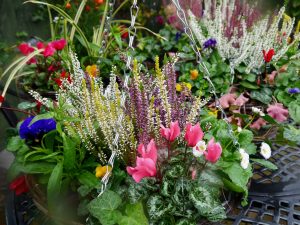 Green Onion Landscaping are often asked to provide our wonderful Winter and Summer hanging baskets when carrying out soft landscaping projects . They provide a whole new dimension to our clients' gardens' or businessess premises in Teesside and the North East. Our hanging baskets are show stoppers. They're colourful , large and striking. They can be placed in those areas of your garden where you are unable to plant in the ground. Green Onion landscaping's hanging baskets add colour to garden spaces or height where your garden needs it most. Colourful hanging baskets brighten up a sunny or dull wall, or with the right choice or style of basket you can draw attention to a specific area of your garden or business premises.
Please pre order your Winter and Summer flowering baskets in February, March or April in preparation for the summer months or August and September for the Winter months. All of our Summer and Winter baskets are planted to perfection to provide you, your family or Green Onion Landscaping's clients with only the best scented, floral displays from May to September, or until the first frosts. Every hanging basket we provide has the potential to last through until the first frosts. You must remember to water your baskets daily, feed them with a good quality plant food fortnightly and dead head flowers regularly to gain the very best displays from them.
Summer hanging baskets – A colourful abundance of striking mixed flowers
Green Onion Landscaping's expertly planted large, vibrant, mixed flower Summer baskets are bursting with a colourful mix of yellow, blue, white, purple and pink flowering hanging basket plants. Colours and plants may vary throughout the season. Our wonderful baskets contain a variety of colourful and trailing high quality flowers such as: Begonias, Geraniums, variegated Nepta plants, Petunias, Bacopa, various Fuchsias and trailing Lobelia. Every basket will display an abundance of colourful flowers until late September or until the first frosts if they are cared for correctly.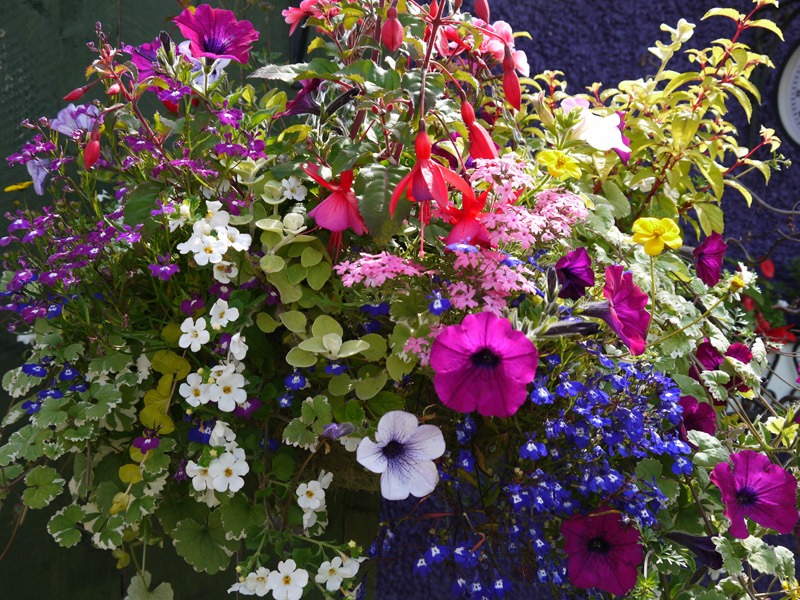 La Campanella – Fuchsia hanging basket
This variety of Fuchsia hanging baskets will flower until late September or until the first frosts. All you have to do is hang them up, feed and water them. 'La Campanella' is a lax, deciduous shrub with mid-green leaves. In summer and autumn it bears small, semi-double flowers with white tubes, pink-tinged, white and purple petals.Green Onion Landscaping's hanging baskets are truly stunning, we sell lots of these throughout the year. Please call us as soon as possible to order to avoid disappointment.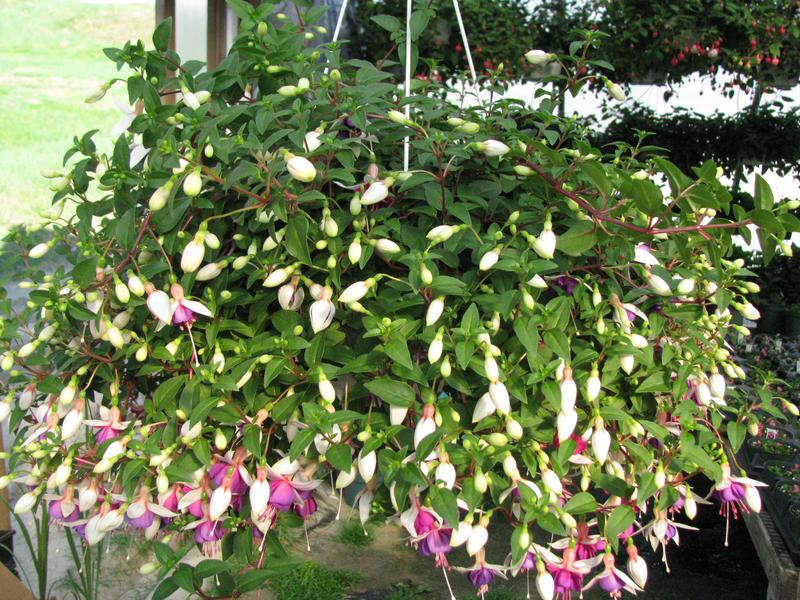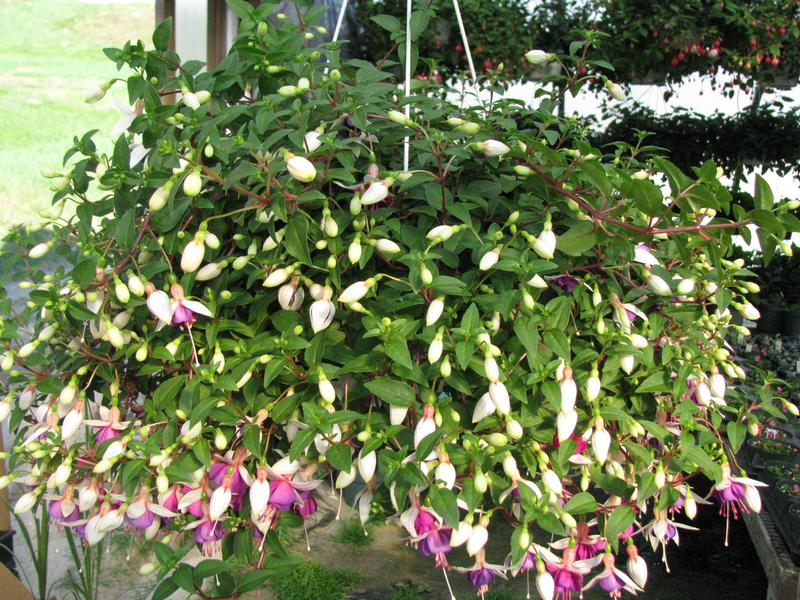 'Dark Eyes'- Fuchsia hanging basket
This variety of Fuchsia hanging basket will also flower until late September or until the first frosts. All you have to do is hang them up, feed and water them. Fuchsia 'Dark Eyes' is an upright, small, bushy, deciduous shrub with dark-green leaves. These bear single, pendulous flowers with deep crimson and deep violet petals in the summer and autumn months. They create a stunning, large display of bright and enthusiastic flowers. Always remember to dead head your hanging basket's flowers to promote new growth and keep them looking bright and fresh.
'Swingtime' -Fuchsia hanging basket
Our Fuchsia Hanging baskets 'Swingtime' variety can be used in your garden to brighten up dull areas of your garden landscape. They look great be placed either side of your font doorway to create a colourful, warm welcome to your visitors. All of our hanging baskets are reguarly fed and watered prior to you receiving them. It is extremely important that you continue to feed and water your hanging baskets to gain the longest flowering time from them.
Fuchsia hanging baskets will add a whole new dimension to gardens and business premises, they can be used to create a country cottage feel , or as a bright and friendly welcome decoration to your front door or business premises.
Green Onion Landscaping's sell an abundance of beautiful,colourful varieties of hanging baskets, just give us a call to reserve yours for this summer, winter or spring 01642 640303 or 07701 097 196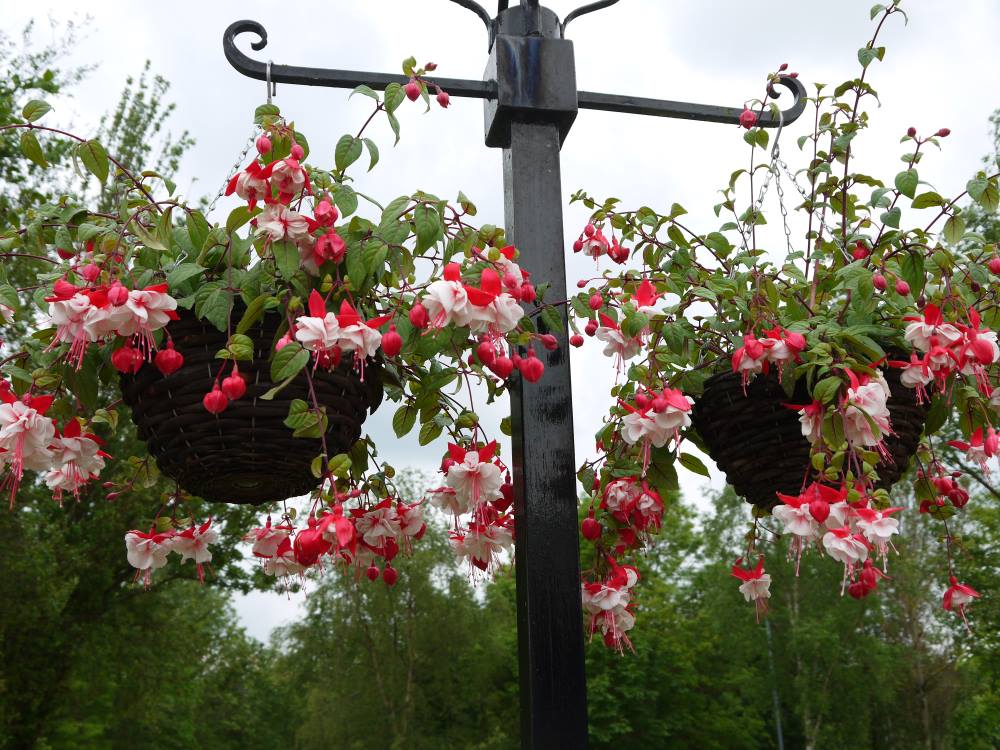 Order your Summer and Winter hanging baskets today
We deliver to Teesside, Stockton, Darlington & Middlesbrough.
Call 01642 640303