Stump grinding
Green Onion Landscaping offers professional tree stump grinding and tree stump removal services in Teesside, Tees Valley, Cleveland, Darlington, North Yorkshire, and County Durham.
How the stump grinder machine works
Stump grinding machinery is very powerful. It removes tree stumps by rotating a cutting disc that quickly and efficiently chips away at the wood of the tree stump. Stump grinders can be as big as a truck or as small as a lawnmower. The size of the stump grinding machine used will depend upon the size of the tree stump to be ground out. Once the stump grinder has done its job you will be left with a wood mulch which you can then dig into your borders, or add to your compost heap.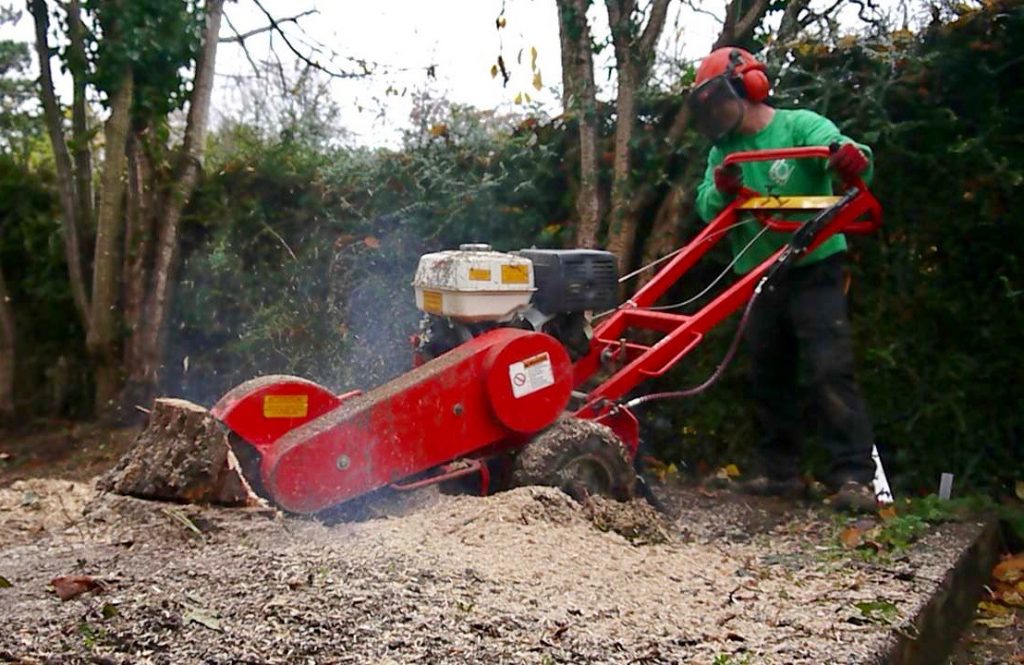 Why should you remove a tree stump?
The most obvious reason to grind a tree stump out is aesthetics. Why spoil your beautiful garden by leaving an eyesore insight. We can easily reclaim your garden space for you by removing your tree stump professionally and quickly.
Safety is another good reason to remove tree stumps. You don't want a trip hazard in the middle of your garden or driveway.
Tree stumps can take years and years to rot and in that process, they may begin to grow fungi on them, this could spread to your healthy shrubs, trees, and plants causing damage to them which could be costly to fix.
Tree stumps left in the ground can also begin to grow again.
If you would like any tree stumps removing from your garden or land for building work, public safety or to improve the aesthetic appearance of your garden or driveway our team at Green Onion Landscaping will quickly and safely grind out and dispose of any tree stump in any location in your garden or on your land.
Green Onion Landscaping can remove any size of tree stump from your garden. We use professional, modern, up to date grinding machinery to grind out tree stumps. All of our staff are fully qualified to use our stump grinding machinery.
Call 01642 640303 to arrange a free quotation for your tree stump removal.
Green Onion Landscaping offer:
Reliable tree stump removal services

Fully trained stump grinding operatives

Modern and efficient machinery

Any size of tree stump removed to below ground level