Ready-made Hanging Baskets
Large pre-planted summer & winter hanging baskets delivered locally
Green Onion Landscaping's large multi-floral hanging baskets are pre-made for you. We use the best quality of British plants and compost. Our premium, large, 16-inch, multi-floral wire baskets are £40 each. This includes your wire basket, all the plants, compost, liner and a heavy-duty hanging chain. Delivery costs are £5 to one Teesside address. Your basket/s will be fed and watered before delivery or collection. Why not treat yourself, or someone special to one or two of our wonderful ready-made hanging baskets. They're great for birthdays, surprises, Mother's Day gifts, Father's day gifts, as a congratulations present or to let someone special know you love them!
Some of these photographs were sent to us by our clients', thank you, we appreciate you doing this. We enjoy seeing your beautiful hanging baskets and their progress through the summer months. Look at the size of these beauties! They're pretty amazing aren't they? Your baskets will grow to an enormous, staggering 32-34 inches if you follow our care advice. A care sheet will be emailed to you when you purchase your hanging basket/s.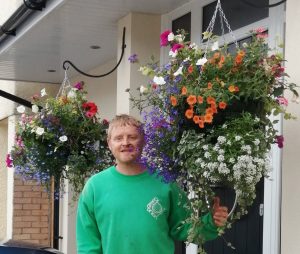 How and when to order our pre-planted summer baskets
When: Please order your ready-made summer hanging baskets in March or April. We need plenty of time to get organised for the rush. We always make spares, but the earlier you order the more chance you will have of getting one or two of these gorgeous baskets. Our ready-made baskets are hugely popular. We sell out very quickly each year. We take late orders in May and June but it's best to pre-order in advance to avoid disappointment.

How: Simply email info@green-onion.co.uk include your name, address, a contact telephone number and how many hanging baskets you'd like to order. We will send you an invoice along with our bank details. All invoices must be paid in full upon ordering, please. Our baskets are made to order. We will not make your hanging baskets if payment has not been received in full. A care sheet will be e-mailed to you once full payment has been received.

Do I get a discount if I order multiple baskets?
We're sorry, we don't offer reductions on multiple purchases.

How will I know when my baskets are being delivered?
Deliveries will take place in the first and second weeks of June as the risk of frost should then have passed. We'll text or email you the day before, or the day of delivery. Please don't panic if you haven't received your ready-made hanging basket in the first week of June! We won't forget about you. The first two weeks of June are extremely busy for us. We are a small, family-run business. We have one van and one driver delivering hundreds of hanging baskets to you all around Teesside, Tees Valley, County Durham and North Yorkshire. It's a mammoth task. Our deliveries will be made logistically over a 2 or 3 week period depending on how many baskets we've sold. Please be patient and understanding, your pre-planted baskets will be delivered to you.
Can you make me a bespoke hanging basket in the colours I want?
Sorry, we don't offer a bespoke planting service. All of our hanging baskets are ready-made and beautiful. Each one is pre-planted with the same plants in a variation of colours.
Where do you deliver to?
We deliver in Teesside. Delivery is £5 to one Teesside address. If your postcode starts with TS we can deliver to you. If you live outside of Teesside you may collect your planted hanging baskets from us on an agreed day and time.
Can you fill my empty baskets for me?
Sorry, we do not offer this service. We supply ready-made, pre-planted large summer and Autumn/winter hanging baskets.
Photographs & reviews from our lovely clients'