A wildflower garden doesn't need to take up a huge amount of your garden space. A simple patch of lawn/turf or an un-used garden border in a sunny, clear position can easily be transformed into a mini wildflower garden providing stunning colour, cover and food for insects, birds, bees and other wildlife. Maintaining a wildflower garden is easier than maintaining a traditional turfed lawn, plus it will provide colourful floral and insect interest from spring until late summer.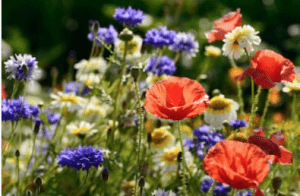 The most successful wildflower garden/meadows naturally occur on nutrient-poor soils. Stop using fertilisers and weed killers before planting your flower species/ sowing seeds, keep your grass area very short and remove all the grass clippings to prevent nutrients from returning to the soil.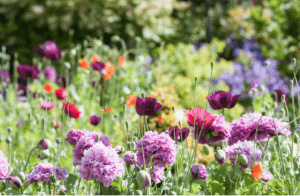 The best way of introducing wildflowers into an established lawn area is to plant small plug-plants in autumn, this gives a much more natural growing appearance. Plant your wildflowers in small drifts across your lawn. Don't mow your lawn until the end of summer this allows the wildflowers to settle for the following year.
Wildflower garden using turf or seeds
If you want to create a wildflower garden on a bare patch of ground you can 'cheat' and lay wildflower turf. Many places supply this in rolls. It can be laid in the same way as the turf is laid. Wildflower turf usually contains 50% kinds of grass and 50% native wildflowers, including bugle, yarrow, ox-eye daisy, birdsfoot trefoil and yellow rattle. There are lots of specialist suppliers on-line. And Green Onion Landscaping can always come and professionally lay it for you.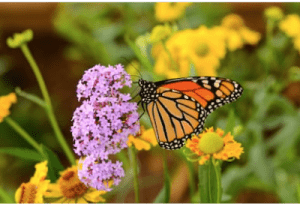 You could opt for sowing a wildflower garden in the autumn or the early spring. If your soil is very heavy and clay-like then sew in spring. Boxes of wildflower seeds can be bought to suit your soil type and conditions. Sow at a rate of 4 grams per square metre. Before sowing your seeds, fork over the soil and rake it, then scatter the seeds throughout. Firm the soil lightly with the back of a rake. Only water once germination has taken place.
Catherine's pick of wildflowers
Some of my favourite British wildflowers include- Forget-me-not with their beautiful blue flowers, scarlet pimpernel with its tiny orange petals and stunning pink centres, viper's bugloss with its deep purple flowers and dark green foliage, cowslip, with its deep yellow blooms held on tall stems in spring; bugle, with it's tall, bright purple flowers; ragged robin, having delicate pink blooms; sorrel, with its spikes of reddish flowers and crimson leaves in summer, and of course, the simple but perfect white ox-eye daisy.