A little

about us
Landscape Gardeners Stockton Middlesbrough & Darlington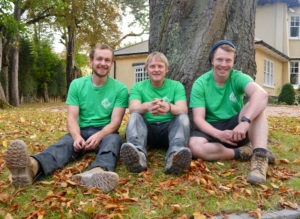 Green Onion Landscaping has over 28 years of experience designing and creating beautifully landscaped gardens. We have an excellent reputation and lots of on-line reviews that speak for themselves. We are your local garden landscaping company – landscapers near me. We are based in Stockton -on- Tees, Teesside, County Durham. Green Onion Landscaping's team offers superb, first-class garden design transformations to your outdoor living spaces. Andy and his team of friendly landscape gardeners near you, can nurture your neglected grounds and turn them into stunning gardens, or we can design you a beautiful, bespoke landscaped garden from scratch and then construct your design for you. All the photographs on our website are of our landscaping work.

Important information for our clients
We are an extremely popular, busy, local landscaping company. We've been running our garden landscaping business for many years and have an excellent reputation. We are a very well known and trusted professional landscaping company that has been established for over 14 years. We only employ skilled landscapers or horticulturists who have proven experience working in the landscape gardening industry.
When should I call you to price my landscaping job?
As soon as possible in the year. Plan ahead. Our work diary books up extremely quickly for the year every year. We are always booked up with at least 3 months' work in advance, even in the winter. If you'd like your garden landscaping for the summer call us in January or February to price your landscaping work, if you're happy with your quotation price ask us to book out space in our diary for you.
Quotations
All of our quotations are typed up and emailed to you. This is so that you and we have an accurate record of the landscape gardening work to be completed. Your quotation price is valid for thirty days from the date shown on the quotation and thereafter lapses automatically.
When will your job commence
We offer work dates on a first-come-first-served basis. We are always busy, even in the winter. We require a 20% deposit to hold work dates in our diary. We will not hold work dates without a deposit for anyone. You will be asked to read and sign our Terms and Conditions of Business before your job starts.
Public Liability Insurance
Green Onion Landscaping holds Public Liability Insurance. If you'd like to view our insurance documents please ask.
Images on our website
All the images you see on our website are of Green Onion Landscaping's work. We do not post other landscaping companies' work on our website. Each of the photographs you view is a garden landscaping project that was designed by Andy Smith the owner of Green Onion Landscaping. Andy and his team of skilled garden landscapers create/build/install all the newly landscaped gardens you are viewing on our website.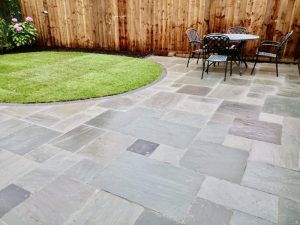 Please have a good look through our website to view lots more of our landscape gardening work. All the photographs on our website were taken by Catherine Smith or Andrew Smith (owners of the business). Some photographs were sent to us by our lovely clients, they have taken these once their garden design has been landscaped. All the landscaping photographs on this website belong to Green Onion Landscaping and must not be used by a third party without our express permission.
Where other landscape garden companies follow, Green Onion Landscaping dares to take the lead. From emerging garden design trends to garden design staples, our team of landscape garden designers in Stockton, Teesside create innovative and distinctive garden designs then build your beautiful bespoke landscaped gardens. Green Onion Landscaping's landscape design work attracts clients from all around Teesside, Tees Valley, County Durham, Cleveland, and North Yorkshire. Green Onion Landscaping pride ourselves on having an eye for garden design trends and implementing those into your landscaping project for you. With our bespoke, local landscape gardening services, and much sought after garden design work we've become a landscaping phenomenon of the North East. We're very proud of this. Give us a call for your free garden landscaping quotation.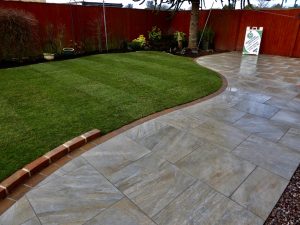 Our job is to make your garden landscape look beautiful and feel wonderful whatever the weather. Green Onion Landscaping live and breathe garden design and landscaping construction. We enjoy everything to do designing and landscaping your gardens. We want to design and create a garden space for you and your family that you'll not only use but love and be proud of too.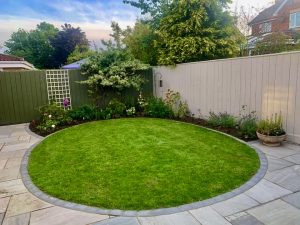 Green Onion Landscaping's professional team of local landscape gardeners can design and create stylish modern gardens that are very low maintenance yet are still ideal for relaxing and entertaining in. Or we can create a more traditional garden design that has garden borders filled with charm and a sense of harmonious abandonment. Take a look through our website at some of the beautiful gardens we've designed and created in County Durham, Stockton, Middlesbrough, Darlington, Ingleby Barwick, Yarm, Stokesley, etc. All the gardens photographed on this website were designed and created by Green Onion Landscaping's expert landscaping team.
This is our client Kay Glew's recent review of her garden design and installation by Green Onion Landscaping in Ingleby Barwick Stockton-on-Tees.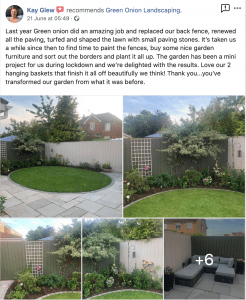 To read our client, Kay's full review, and see further images of her garden please click here.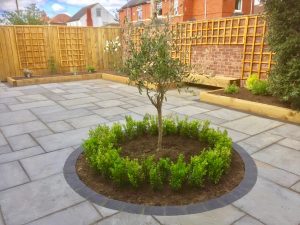 Green Onion Landscaping offers many landscape gardening services in Teesside. Perhaps you fancy a new composite or timber decking area in your garden, our team can quickly and easily design and install a beautiful wooden or composite decking area for you. Maybe your lawn area needs re-turfing, or is it artificial grass you're looking for? We supply turf and lay only the best top-quality Rowlawn turf or we can install a superb quality fake grass lawn for you, the choice is yours.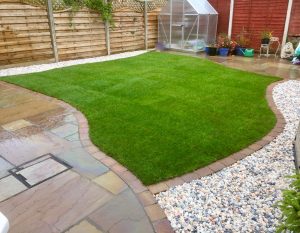 Green Onion Landscaping also designs and builds many garden patios. We can supply and lay patios and paving of all colours and textures. We also lay block paved driveways in Teesside from either permeable paving blocks or standard paving blocks. If your paving, patios, drives, or garden furniture need a high pressure clean, Green Onion landscaping also provides a professional jet wash cleaning service. We design and build raised timber sleeper beds for easy planting or vegetable growing. We offer timber close board garden fencing and wooden garden gates. And for those whose gardens flood or hold water every time it rains, Green Onion Landscaping offers garden drainage solutions. Our dedicated horticulturist can also design and create beautiful soft landscaped gardens, fell trees, cut back trees, and shrubs and provide a stump munching/tree stump removal service. Every garden landscaping service you need we offer and at competitive prices. Call us for your free quotation.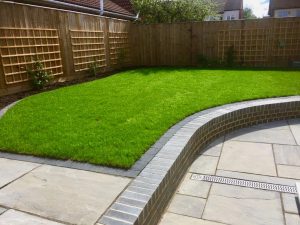 If you're looking for a friendly team of local garden landscapers in Stockton or near you to keep your garden tidy, mow your lawns, turn your borders or cut your hedges then you'll be pleased to hear we offer fantastic garden maintenance services too. Green Onion Landscaping is your local, professional garden landscaper. We work throughout the North East, Teesside, Tees Valley, North Yorkshire, and County Durham designing, creating and maintaining beautifully landscaped gardens for all of our clients all year round. Give us a call for your free quotations. Tel: 01642 640303/07701097196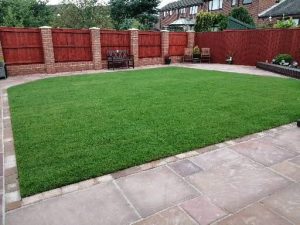 Never underestimate the power of great garden space or garden design – A garden that has form and function is practical and beautiful, will improve your lifestyle and make you feel relaxed and happy. Each member of Green Onion Landscaping's team is a highly-skilled, creative professional who possesses a creative eye with strong attention to detail and skills which they've acquired through many years of working in the landscaping industry. All of our staff are confident, happy, proactive, and have a hands-on attitude. We have over 28 years of experience designing and creating landscaped gardens in and around the North East.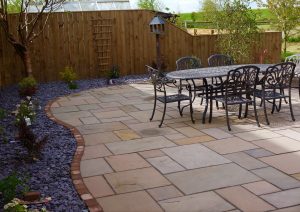 Confident, happy, hard-working professionals and always ahead of the game – that's Green Onion Landscaping in a nutshell. We design and create beautiful hard and soft landscaped gardens in Teesside, Cleveland, Tees Valley, County Durham, and North Yorkshire.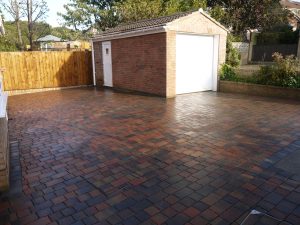 Each of our team members has years of experience working in the landscape gardening industry. Our friendly landscapers all take enormous pride in every garden landscaping project they design and create. Our landscaping team is passionate about every aspect of their jobs. Green Onion Landscaping enjoys meeting new clients and revisiting our faithful repeat clients. Green Onion Landscaping's professional team pride themselves on creating bespoke, unique, striking, beautiful landscaped gardens for all of our clients. Let us create a beautiful garden for you and your family this year!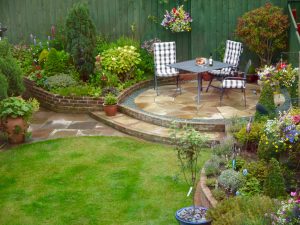 Green Onion Landscaping's friendly team of garden landscapers take great pride in our innovative landscaping designs and beautiful garden installations, making us the best choice for all your soft and hard landscaping design and construction needs in the North East. We are your local landscapers. Garden Landscapers near you. Landscape gardeners working in your area.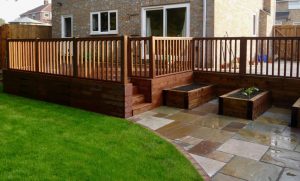 We provide free, no-obligation hard landscaping quotations*
Green Onion Landscaping design and landscape gardens in Teesside, Tees Valley, North Yorkshire, County Durham and the North East of England; Middlesbrough, Stockton, Darlington, Billingham, Norton, Wynyard, Middleton St. George, Yarm, Stainton, Ingleby Barwick, Thornaby, etc.
*excluding quotations for soft landscaping, these are chargeable
Before & After
A complete garden redesign by Green Onion Landscaping. Turn your volume up for a better viewing experience.
Speak to Green Onion Landscaping today to see how we can help you transform your garden landscape
Latest Stories
See the beautiful gardens we've landscaped in your area
Want to read our landscape garden stories, hints and tips?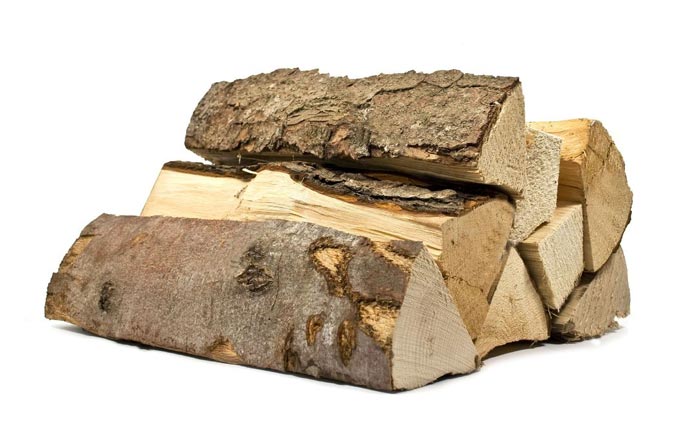 The Log Pile
Seasoned logs delivered locally
Green Onion Landscaping sell and deliver hard wood logs and fire wood in the Teesside, Tees Valley area in M3 bags.
Green Onion Landscaping's seasoned logs and crate wood are ideal fuel for open fires, multi-fuel stoves, wood burning stoves and other wood burning appliances.
"Brilliant work, my garden is now useable and flood free!!!
Thank you so much Green Onion Landscaping"
"Green Onion Landscaping built a new patio for us. They did a very professional job and delivered the project on time and in full. Their performance was 10 out of 10. They also gave us very good advice regarding the job concerned."
"The new block paved driveway looks marvellous. It really sets the house off and looks so much neater than what we had before. The herringbone block paving pattern is very smart. I wouldn't hesitate to recommend Green Onion Landscaping to anybody looking to get some block paving done."
"I'd just like to say a big thank you to Green Onion Landscaping. I love my new landscaped garden, it's beautiful. The landscaping work they carried out is second to none in quality and they worked tidily and speedily. Thank you Andy and the lads."
"Thank you for creating us a beautiful space to dine with friends and enjoy the sun. We love it. Bellisimo!!!"
"Fantastic job, we now have a usable garden thank you Green Onion Landscaping."
"Great job lads and we now have a wonderful garden that is also functional!!! We would highly recommend your company to anyone that has a flooded garden! We can't believe the difference. Thank you."
"The job looks fantastic Andy, we're really happy. It looks a world away from when you first started the job. We love our new garden design. We've passed your card on to a friend. Cheers to you and your lads for all your fantastic work!"
"Thank you for our new fence, gate & patio. We are thrilled to bits and amazed at how speedily and tidily you all worked. We highly recommend Green Onion Landscaping."
Get in touch today
We'd love to help you bring your landscaping ideas to life!