A contemporary, modern patio design makes for a wonderful, welcoming living space throughout the Summer months – and even into Winter, if you get your patio design right. Patios and paved spaces require little maintenance, so the smallest seasonal refresh can completely update your outdoor space. If you're looking for ways to liven up your garden space with a contemporary, modern patio design, whatever type of home you have and whatever size your garden space is, give Green Onion Landscaping a call. We are confident that we can design and create a contemporary, modern patio design for your needs.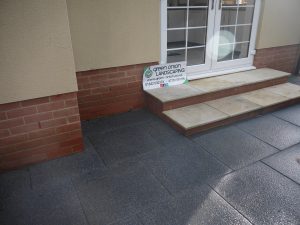 Client Brief
Mr.Din requested a contemporary, modern patio design for his new property in Marton Middlesbrough, Teesside. He wanted straight lines and sleekness to be the key features of this new patio design. After a few discussions with our lovely client it was decided that using Tobermore paving in this contemporary, modern patio design would be the best idea. Tobermore have one of the largest ranges of paving flags & paving slabs available to landscapers. Their paving stones start with standard smooth finish paving flags right through to the high quality Mayfair flags which we have used here. Their patio stones have a huge range or colours and textures available for clients to chose from. These particular patio paving flags contain granite aggregates, this makes them extremely durable, sleek and heavy. They ooze sophistication, style and glamour which is perfect for a contemporary, modern patio design.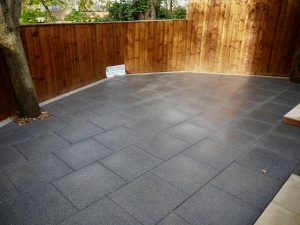 The Tobermore patio/paving flags are extremely heavy, are a beautiful, deep charcoal grey colour with a light speckle of white in them. These patio flags create a stunning, smooth, contemporary, modern, patio design which will be used as an alfresco dining area in the summer. The pebbles used around the client's tree and at the edges of the paving are Scottish pebbles. These pebbles are a fantastic mix of greys, pinks, browns, greens and whites. Scottish pebbles are extracted from age old glacial deposits in Scotland. This is what gives them their well rounded, smooth finish. These pebbles can also be used for ground cover. They add a different texture to your garden. Their sizes range from between 20-45mm.
We think you'll agree Mr. Din's patio area is stunning. We have created a beautiful, modern, contemporary patio design for the family to use all year round. If you'd like a free quotation for a contemporary, modern patio design then give us a call. We're always happy to help. This contemporary, modern patio design and installation was carried out at a beautiful property in Marton, Middlesbrough. Our highly skilled landscaping team have over 25 years experience designing and creating contemporary, modern patio designs. You can see more of our patio work here.