Where did it all begin
My fascination with growing edible flowers, berries and leaves definitely stems, (pardon the pun) from having parents that were foragers. They enjoyed both growing and searching for edible flowers or edible berries to make their own food and drinks. Violets, Dandelion heads, Elder flowers, Violas and Roses were often used in many dishes or drinks my Mother and Father made. I have very fond memories of sitting in our garden in the blazing sun in the 70's tasting Marigold petals and leaves for the first time. I still remember being shocked by that clean citrus taste. Marigolds are ideal for adding to salads, sandwiches, seafood dishes or hot desserts. They look and taste wonderful.
My Father
A creative genius who really could turn his hand to almost anything. He was an amateur wine maker whose home brew would render anyone unconscious if they dared to partake in a glass or two, would often rope me into collecting Rose hips, Elder flowers, Elder berries, or Dandelion heads for his experimental wine making. I enjoyed it. And he and his friends more than enjoyed his very alcoholic homemade Rose petal or Elderberry wine, or his Dandelion and Burdock.
Me & my brother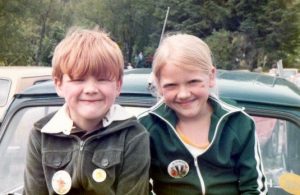 In the 70's, when I was a kid, I'd get many an odd look, or even a telling off from my friends parents when/if they found me tucking into their window boxes or gobbling down their bedding plants. I'd try my best to explain that they were edible and tasted gorgeous. I just got strange looks and they'd tell their own children very sternly not to copy my crazy behaviour. I was more at risk of being poisoned by whatever pesticides they may have used on their flowers than any of the edible flowers themselves.
The Houston Family
My parents regularly took me and my siblings on exciting foraging trips. Trips that weren't actually planned, they just happened when something was spotted that could be used for wine, salads,soups chutneys or jams. My brother, sister and I quickly learned which flowers, leaves or berries we could or could not eat. I enjoyed those care free days. I felt like I was on an adventure and at the end of it we would always turn our finds into something fantastic to eat or drink. It was bliss.
Grow your own
I would always advise you to grow your own selection of edible flowers, berries, leaves in your garden. This way you can be sure that they are clean, fresh, free from pesticides, pests and disease. Edible flowers, berries or leaves are always best picked fresh from your garden the day you want to use them. Another huge advantage of growing your own edible flowers, berries or leaves is you have the opportunity to experiment and show off to your dinner guests, both what you have grown and what you've created with your homegrown colourful, tasty flowers. Here's some of my favourite edible flowers, leaves and berries and some great culinary ideas of what you can create with them.
Nasturtium: Edible flowers with a cheeky bite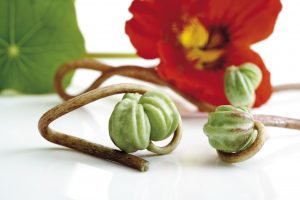 Harvesting Nasturtiums from my own garden is something I've been enjoying doing for many years now. As a long-time wild food enthusiast I have been known to collect edible plants in many unlikely spots. But growing and picking a selection of edible flowers from one's own garden, well, there's nothing quite like it. It makes me feel happy, proud and like a shiny, floaty bubble.
Nasturtiums have a very attractive, vibrant yellow /orange blossoms with round leaves. Let me assure you that this plant is not only edible but also super tasty! Lovers of Radish or Water cress, once you've tasted this you'll be salivating each time you see these little beauties growing in yours or your friend's gardens. They really do tickle the old taste buds and I think they're addictive. The petals initially taste very sweet, keep chewing and they become peppery hot like a Raddish -Yes really! The leaves and the flowers of this pretty, cheeky little number are milder than the stem. If you want to taste and feel a real kick and clear out your sinuses at the same time, have a nibble on the stems -Unreal. Gorgeous. Just WOW! Then there's the seed pod's of these little beauties – Phwoaar they are hot, mustardy hot, they feel crunchy and taste simply divine. I pickle these. Nasturtium seeds are often known as poor man's Capers. Frankly, I think they're a million times more flavoursome than Capers. Get some down your neck. Spice up your meals using Nasturtium leaves in salads, sprinkled in to soups, mixed with chives, or use a mix of blossoms and leaves lightly chopped in an omelette, coleslaw or mixed salad.
Wild Garlic & Nettle Soup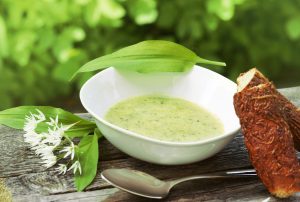 When you spot Wild Garlic and Nettles growing it's a sign that Spring is coming. Don't let the Garlic part of this recipe put you off making this beautiful fresh looking and great tasting soup. Nettles and wild Garlic are both exceptionally mild in their flavours. Wild Garlic tastes more like Spring Onions when they're cooked. Nettles have a fresh hay flavour. Sautée with butter and blend with potato & leek cooked in to a soup, they make a fantastic tasting, mild and earthy soup. Try it you won't regret it.
Recipe for wild garlic, nettle, leek & potato soup
Ingredients
5 medium leeks
1 bunch green garlic
5 Tablespoons unsalted butter
1 medium shallot, diced
1 large russet potato, peeled and diced
6 cups chicken stock with extra if necessary
salt and freshly ground pepper
3 bags (like you'd get from Tesco, Aldi, Lidl ( plastic bags) of Nettles
Garnishes:
Hard boiled egg
Bacon
Olive oil
Mustard flowers
Oxalis flowers
Dried nettle chips
Crème fraîche
Chives
Preparation
Cut off most of the dark green leaves and the roots of the leeks & green garlic and discard. Cut in half lengthwise and clean. Chop into 1/4″ slices and set to one side.
Melt the butter in a large pan. Add your leeks, green garlic, and shallots and sweat (cook slowly without browning). Cook until the shallots are translucent and the leeks and green garlic are tender. Add the potatoes and cook for 2 minutes longer. Add chicken stock. Season with salt and pepper to your taste.
Bring to a gentle simmer for about 20 minutes or until the potatoes are tender. In another large pot of salted boiling water blanch the Nettles, 10 seconds in boiling water should stop the sting. (Always handles nettles with tongs while adding them into the boiling water.) Quickly transfer the nettles to a bowl of ice water after you've blanched them. The shock of the ice cold water stops the nettles further cooking and locks in the bright green colour. Now squeeze all of the water out of the nettles, just like you would after cooking cabbage.
Now you can purée your soup with your cooked nettles. Garnish the end product with edible flowers that you like and then eat hot or cold!
Summer Holidays
During the summer holidays it wasn't unusual to find me and my siblings picking edible flowers, berries or fruit in local parks, woodlands, fields and our garden. We must have saved our parents a small fortune during summer holidays on lunch bills by scoffing all the edible wild flowers in the fields we played in, or the berries and fruits we'd find on trees in the cemetery, woodlands or neighbouring gardens when we were out oggy raiding with our mates.
Memories of Great Uncle Cyril Hay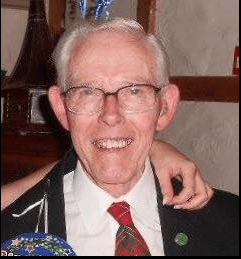 One of my fondest childhood memories is picking a huge hoard of Mulberries from our local park whilst visiting it with our Great Uncle Cyril. He was used to our foraging behaviour and didn't discourage it. He'd let us climb, (when I say let us, he really had little choice in the matter and he wasn't much of a disciplinarian, he was as soft as clarts in fact). We had become very adept at spotting fruit from a distance. We were all up that tree like a bunch of monkeys before he had chance to blink. I remember that day like it was yesterday. It was exciting and fun to us. I felt like I'd won something. I was chuffed to pieces that we'd found a new fruit that we could proudly take home and make something edible from for everyone to enjoy. I knew my Mum and Dad would both be happy too. They would also want to make something from our hoard. We filled anything we could with our find of Mulberries, including our mouths. When we got back to Uncle Cyril's house he let us make milk shakes with the berries and a pie. The rest were presented to our parents when we went home, (next door). Mum made some Mulberry Jam and Dad used his stash for his homemade Wine. These memories really are very precious to me. That's why I still get a buzz out of foraging for beautiful edible flowers, berries and leaves.