Porcelain paving – why choose these over block or sandstone paving
Porcelain paving is ultra sleek and sophisticated it offers a designer edge that you'll be eager to show off to your friends and family. Porcelain paving is made from a mixture of clay and sand they have the look and feel of high-grade natural stone but are much more reasonably priced. They are ideal for those looking for a high end finish on their patio or paving on a budget. See one of our porcelain patio projects mid construction in Norton Stockton on Tees.
Durable, water-resistant and scratch-proof, outdoor porcelain slabs are perfect for areas with high footfall, such as patios and pathways. They're also extremely hard-wearing and non-porous, this means you need to spend time covering stains or buying expensive sealants. In fact, all porcelain needs is a quick jet wash to keep them looking as good as new.
Paving slabs and block paving have long been the staple choice for our exterior patios/driveways and landscaping projects, however porcelain paving has become hugely popular in recent years, thanks in part to the interior design trend of indoor/outdoor which sees interior flooring seamlessly flowing into your outside garden areas.
Porcelain paving can be used for patios and paving, they're the perfect material which provide everything you could possibly want from an outdoor patio or paving tile. It's low-maintenance and aesthetically beautiful it ticks all the right boxes for hard landscaping in your garden.
As a patio/paving material, porcelain offers many advantages over block paving /concrete paving: –
Outdoor porcelain paving is stain resistant
Has a textured surface for grip
Are resistant to a number of weather conditions
Are frost and fade resistant
Non-porous and water-resistant.
The low porosity of the porcelain tiles makes them virtually impermeable, giving them added traction and protecting you from potential slip hazards.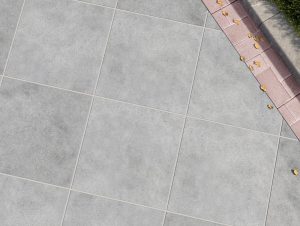 Porcelain is ideal to use in an area where you may be considering putting a hot tub or pool. The surface of these tiles is wipe clean and stain-proof making them equally suitable for outdoor social events, such as barbecues or drinks with friends. Give Green Onion Landscaping a call 01642 640303 for your free outdoor tile patio, paving or driveway quotation.