Patios & paving
Would you like your garden patio paving installed by Teesside's best landscape gardeners. Then Green Onion Landscaping are the company for you!
Contemporary and traditional garden patios paving ideas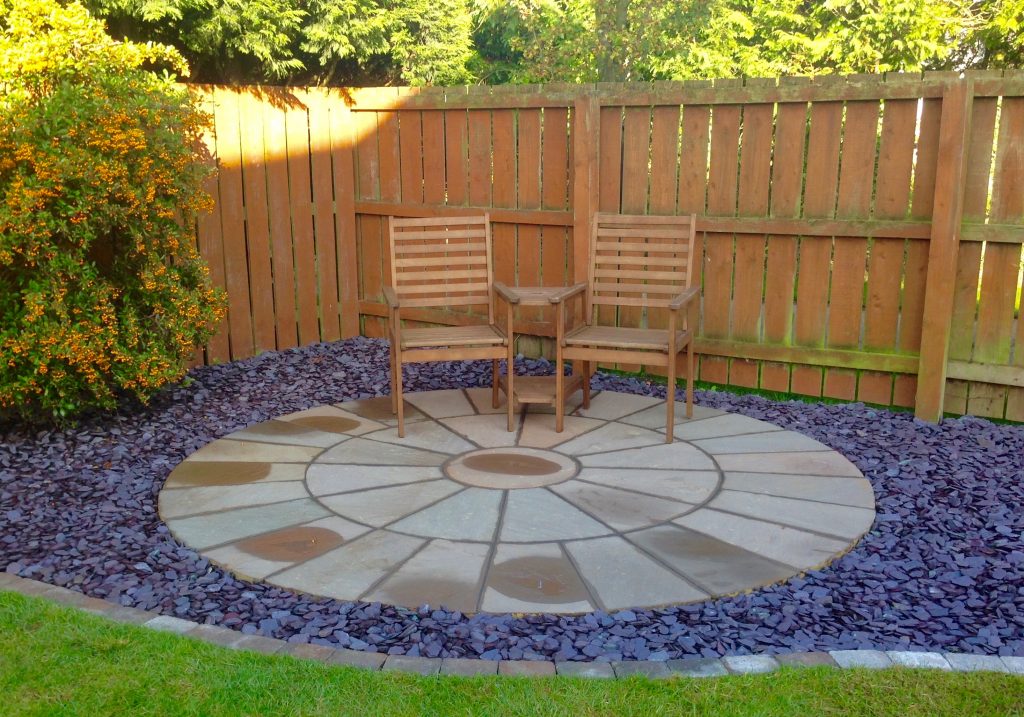 The right garden patio paving can mean the difference between a dull, tired-looking garden landscape and a truly amazing, bespoke outside space that you'll be really proud of for many years. If you're looking for a patio or a paved area in your garden which needs to be practical, durable and stylish then contact Green Onion Landscaping. We have access to an amazing range of traditional and contemporary paving, patio stones. Whether you'd like to create a distinct looking paved circle, or if you'd like to use an ethically sourced natural stone we can find the right product for your new patio paving.
Whether you're updating your garden's existing hard landscaping features with a patio or whether you're planning a whole re-design of the garden landscape, Green Onion Landscaping are here for you to talk to. We will discuss each paving slab or patio stone option available to you. We will help you decide which is the best paving for your garden design vision. Green Onion Landscaping understand that your garden patios paving and outdoor spaces needs to look fantastic and provide a function for you, your family and visiting guests throughout the entire year. During your free consultation we will discuss the reasons you'd like patios paving areas and what you'd ideally like to use these areas in your garden for.This will help us help you to make to correct choices for your patios or paving.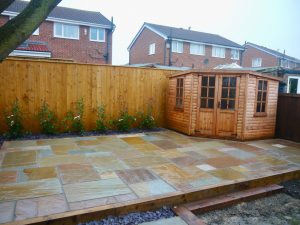 We want to get a feel for your personality and garden desires, this will allow us to create the most aesthetically pleasing and functional patios paving designs for you and your family. Whether you'd like traditional patios paving or contemporary patios paving design we will create the perfect area for you in your garden.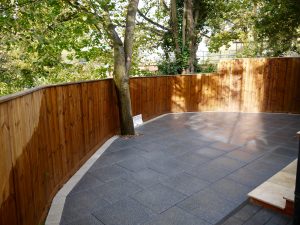 Green Onion Landscaping will happily guide you through each step of our patios paving design process. We can provide you with samples of contemporary or traditional patios paving stones. We can also provide you with brochures to view various patios paving material. We will tell you which stone merchants to visit to see these patio paving materials and designs in situ. We feel it's very important that you see and feel examples of patios paving stones prior to making a decision on which materials or design you would like us to incorporate in your garden.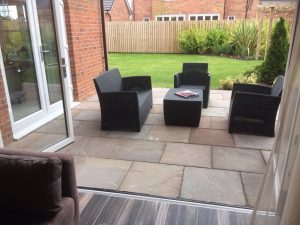 As soon as Spring appears people start to think about giving their gardens a makeover for the coming Summer months. One of our most popular requests is to supply and construct circular or round patio areas in your gardens.
Circular patios come in many different shapes, sizes and designs. We've added some photographs of a few of the round patios paving that we have had the pleasure of constructing for our clients on this page. Hopefully these will inspire you with ideas for your own garden.
Circular/round patios paving
Now is the ideal time to add patio paving to your garden. Plan ahead – Use the colder months to have Green Onion Landscaping's team of professional landscapers design and construct you a round patio, then you can enjoy it during the warmer Spring and Summer days.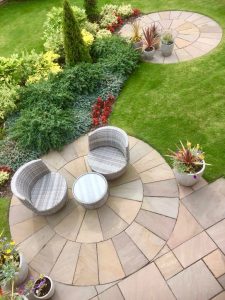 Round patio areas paving can create beautiful alfresco dining area in your garden. Place your table and chairs on the patio area and it's suddenly ready for a BBQ or a nice cuppa with your friends. Patios and paving can also added as a garden design feature, for instance some of our clients have asked us to add a water feature in the centre of their circular patios, others request fire pits or lighting. The choice is yours. Fire pits are becoming more popular and add an extra dimension to your patio. Ideal for sitting outside with friends and family when it starts to get a bit colder. Patio stones are available in many differing colours so you can really make your round patio circle stand out from the rest of your garden.
Contemporary and traditional patios paving inspiration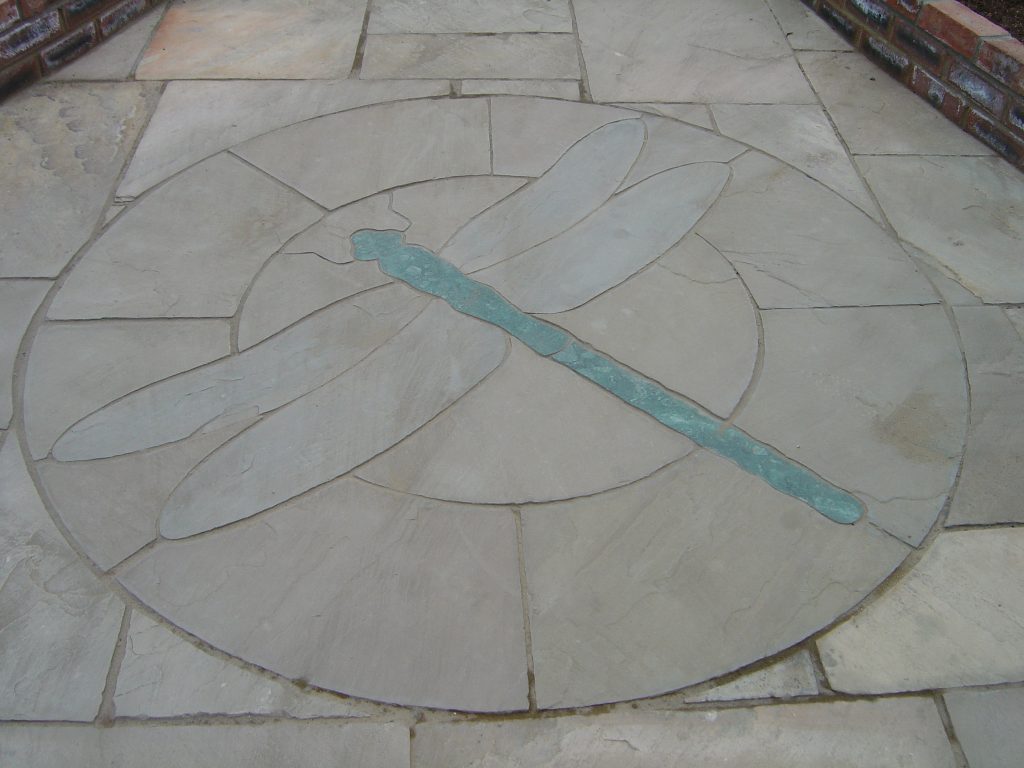 Many of our clients request a garden patio so that they can barbecue from it whilst also dining alfresco with their family or friends. Some clients use a patio area to define certain areas of their garden. It is lovely to design and have a specific outdoor eating space or a play area patio that's safe for your children, where you can easily see them from your home.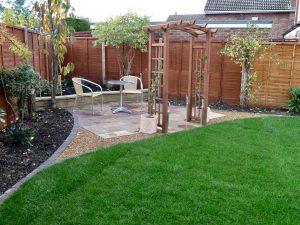 Whatever your garden patio's purpose, idea or style, we can offer you the perfect design and installation. Green Onion Landscaping have over 25 years experience delivering garden landscape solutions to our clients. We are confident we can help you too. Let us make your garden a place you would love to spend time in!
Stunning sandstone patios and paving
Patios paving inspiration
Green Onion Landscaping use a wide range of paving suppliers therefore we are able to supply and lay the widest variety of natural stone paving such as sandstone, man made paving including setts, flagstones or cobbled edging.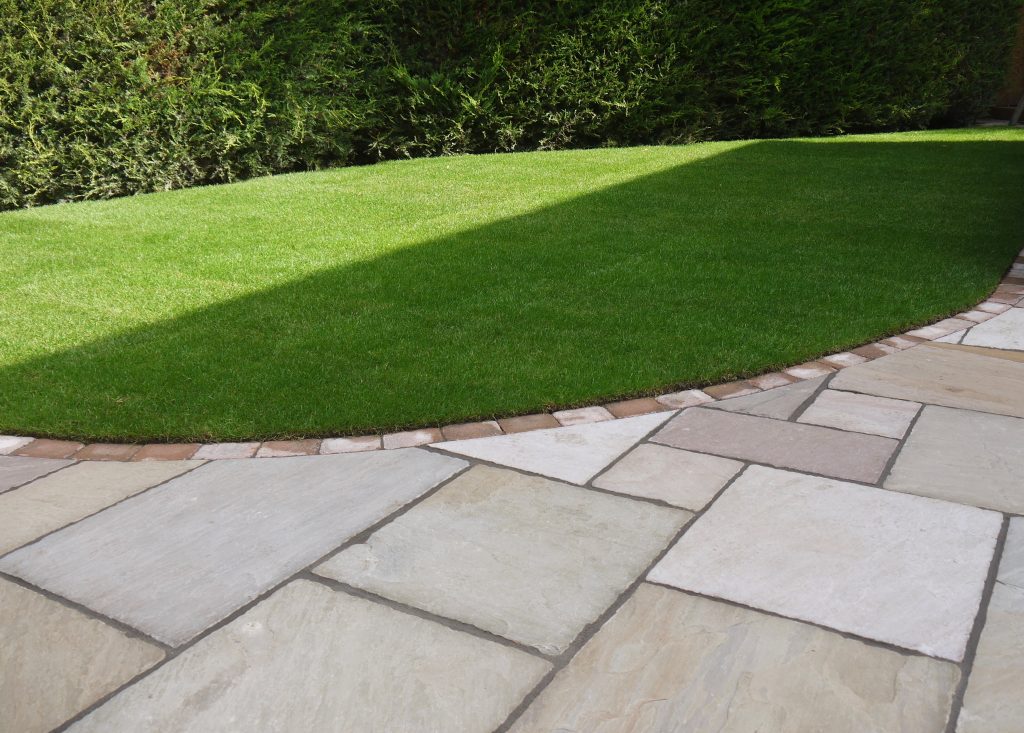 Green Onion Landscaping's happy, friendly team are all experienced paving professionals in Fairfield, Stockton. We will ensure that your patios and paving are laid on foundations suitable for the purpose it is required. Our team of experts will always lay your paving with appropriate drainage and in line with industry standards.
Our team of professionals have years of experience in designing and installing patios and paved areas, therefore we are always happy to help you chose the correct patio and paving materials for your project.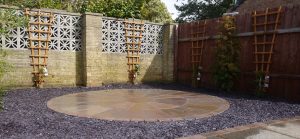 If you'd like to view samples of some of the various patio or paving stones, simply ask. We are also to able to provide patio and paving brochures for you to gain an idea of patio or paving designs from. We will direct you to a showroom where you will be able to see your chosen paving laid.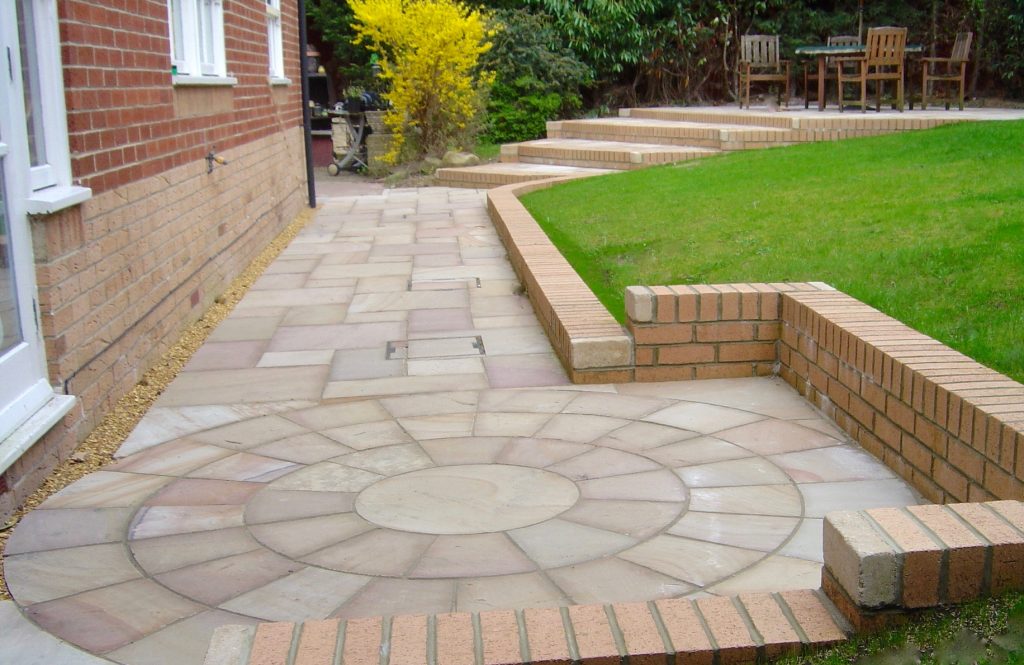 Call Green Onion Landscaping for your free patio & paving quotation 01642 640303 / 07701097196
Perfect for:
Homes

Public houses

Restaurants

Bed & Breakfast establishments

Care homes

Dentist and Doctor practises

Many more…
Patio & paving projects and blogs
Get in touch today
We'd love to help you bring your ideas to life!