Circular patios for Terry and Fay in Yarm.
Terry and Fay were very keen for Green Onion Landscaping to construct their circular patios. The patios were to be used for entertaining family and friends during the summer months. One of the circular patios was to lead onto a matching sandstone paved area which had been constructed by us the previous year. The other round patio was to stand alone as a feature in its own right.
Green Onion's team constructed two beautiful circular patios – The sandstone of the circular patios perfectly matched the existing patio area providing separate entertaining areas for our clients.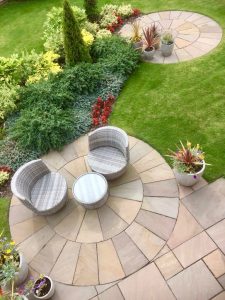 Circular patios can easily fit into gardens of any style. They can be constructed from a variety of materials too. Round patios are quite popular. Quite often clients like to add a feature focal point to a circular patio. In this instance, we used Terry and Fay's circular coffee table and chairs, some times it is a water feature or fire pit that is added to the centre of the circular patio.
There are two main types of round patios – a full circle design, or a half-circle design. Full circle patios often exist independently. They serve as a destination that attracts the family out into their garden.
Half circle patios typically abut the back of houses or buildings. Rounded/circular patios blend naturally into the surrounding landscape, this is because they have soft edges and no sharp angles.
This garden landscaping job was relatively straight forward. Once the circular patios were constructed all that remained for us to do was sand in and seal the new sandstone paving.
Green Onion Landscaping uses a water-resistant, resin-based sealer. We always advise that new paving or patios are sealed. This will help retain the colour of your new patio stones and protect your paving from weather damage.
The round patios and the larger rectangular patio area provides plenty of space for the family to use in the summer months. Family and friends can sit comfortably admiring the newly landscaped garden. Friends and family will be able to dine and chat very comfortably in this newly landscaped area of Terry & Fay's garden.
"Hi Andy, Great to see you all again. Thank you and the Green Onion Landscaping Team for the work you carried out on our house. The seated patio areas look great! The new paved area fits in perfectly with the patio area you built for us last year. We're both chuffed to bits! Cheers."
Terry and Fay – Yarm, Stockton-on-Tees, Teesside.