Funky landscape design Stockton-on-Tees Teesside
The design brief
Sarah & Andrew decided that with Green Onion Landscaping's professional help, they wanted to turn their tired old garden into a beautiful, bespoke, funky, landscape design haven for themselves, their children, family, and friends. Please watch the video transformation of this project below, for a better result turn your volume up too! The end result of this landscaping project is unbelievable & beautiful! Enjoy.
A large 3 ring circular sandstone patio area was requested for Alfresco dining in the summer. This was constructed at the top right-hand side of their new garden landscape, where the old shed used to be. Sandstone steps lead you up to the patio area. The old garden was raised by us in order to be able to put this raised circular patio area in for Andrew and Sarah. Ten Tons of soil were brought in for this. The sun hits this back right-hand side area of the garden every morning so this will provide a perfect patio area for Andrew and Sarah to sit and eat breakfast together on a summer morning.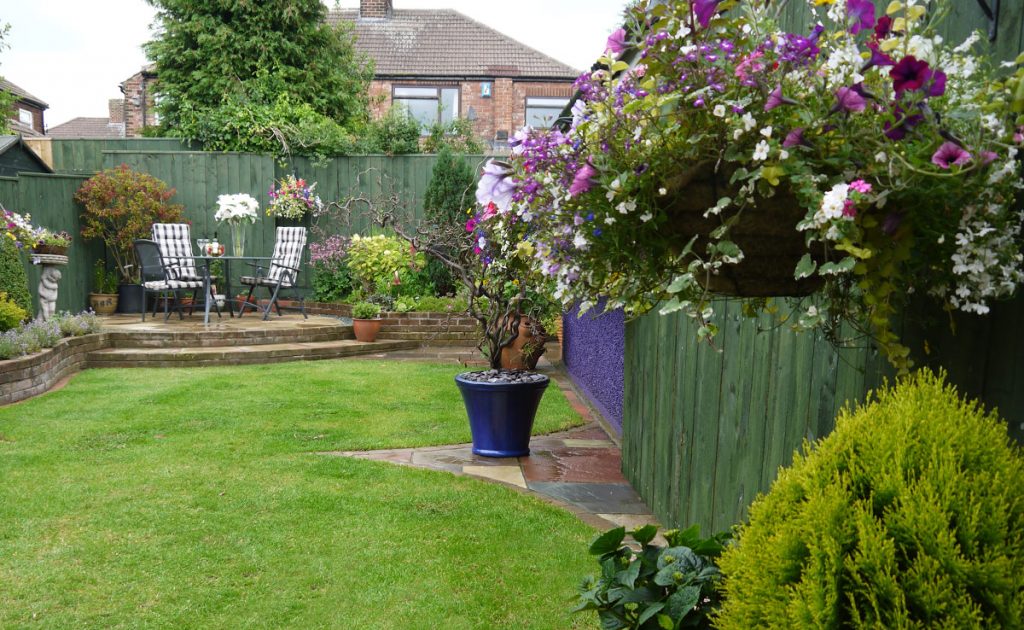 Sarah and Andrew also asked us to design and install a beautiful, curved, timber garden decking area outside of their French doors. Outdoor decking lights were also seated into the new timber decking. They will twinkle beautifully in the evening. The existing French doors now open fully on to the new timber curved decking area. The timber decking was constructed in a circular design and continues along the back of the house. This means that Sarah and Andrew can step straight onto their new decked area from the kitchen door or the French Doors and they can step straight onto the newly turfed circular lawn from their decking. View more images of this and other landscaping work Green Onion Landscaping have carried out here.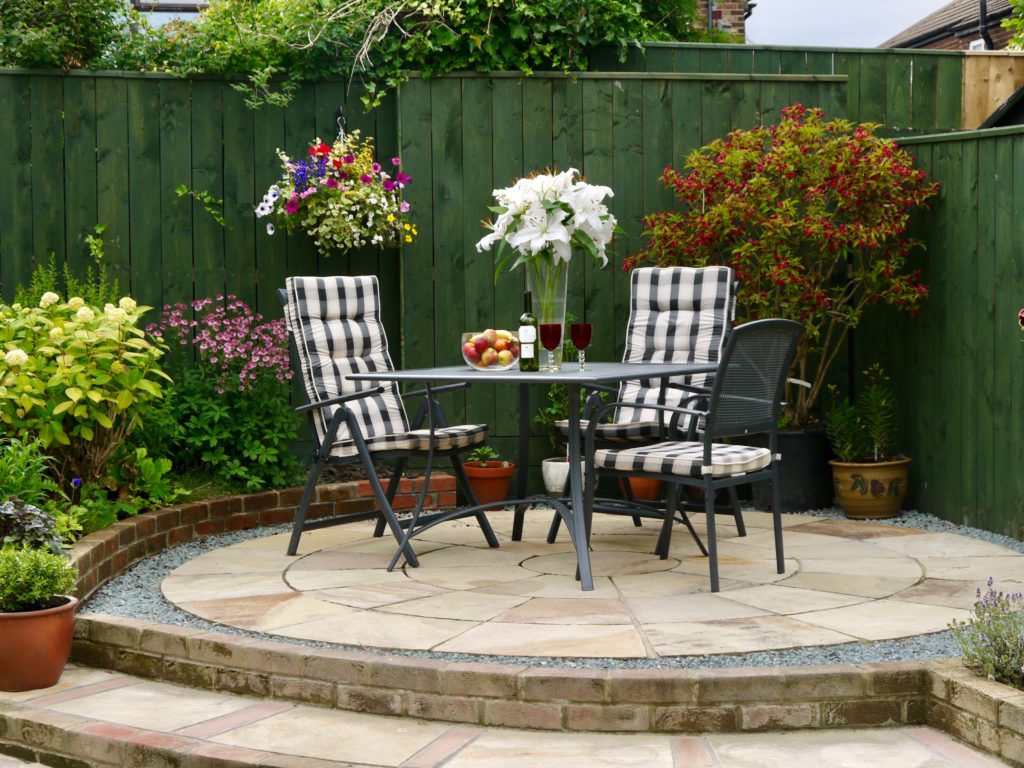 Sarah and Andrew's lawn was very old and had seen better days. It also sloped downwards towards their house. We raised the level of the ground by bringing in more topsoil. The new Rowlawn turf lawn is now flat and level. A French Garden drainage system was installed underneath the new lawn before the new turf lawn w