Where did it all begin
My fascination with growing edible flowers, berries and leaves definitely stem, (pardon the pun) from having parents that were foragers. They enjoyed both growing and searching for edible flowers or edible berries to make their own food and drinks. Violets, Dandelion heads, Elderflowers, Violas and Roses were often used in many dishes or drinks my Mother and Father made. I have very fond memories of sitting in our garden in the blazing sun in the '70s tasting Marigold petals and leaves for the first time. I still remember being shocked by that clean citrus taste. Marigolds are ideal for adding to salads, sandwiches, seafood dishes or hot desserts. They look and taste wonderful.
My Father
A creative genius who really could turn his hand to almost anything. He was an amateur winemaker whose homebrew would render anyone unconscious if they dared to partake in a glass or two, would often rope me into collecting Rosehips, Elderflowers, Elderberries, or Dandelion heads for his experimental winemaking. I enjoyed it. And he and his friends more than enjoyed his very alcoholic homemade Rose petal or Elderberry wine, or his Dandelion and Burdock.
Me & my brother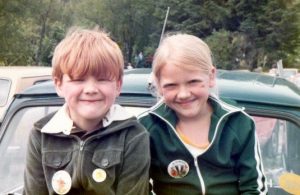 In the '70s, when I was a kid, I'd get many an odd look or even a telling off from my friend's parents when/if they found me tucking into their window boxes or gobbling down their bedding plants. I'd try my best to explain that they were edible and tasted gorgeous. I just got strange looks and they'd tell their own children very sternly not to copy my crazy behaviour. I was more at risk of being poisoned by whatever pesticides they may have used on their flowers than any of the edible flowers themselves.
The Houston Family
My parents regularly took me and my siblings on exciting foraging trips. Trips that weren't actually planned, they just happened when something was spotted that could be used for wine, salads, soups chutneys or jams. My brother, sister and I quickly learned which flowers, leaves or berries we could or could not eat. I enjoyed those carefree days. I felt like I was on an adventure and at the end of it, we would always turn our finds into something fantastic to eat or drink. It was bliss.
Grow your own
I would always advise you to grow your own selection of edible flowers, berries, leaves in your garden. This way you can be sure that they are clean, fresh, free from pesticides, pests and disease. Edible flowers, berries or leaves are always best picked fresh from your garden the day you want to use them. Another huge advantage of growing your own edible flowers, berries or leaves is you have the opportunity to experiment and show off to your dinner guests, both what you have grown and what you've created with your homegrown colourful, tasty flowers. Here are some of my favourite edible flowers, leaves and berries and some great culinary ideas of what you can create with them.
Nasturtium: Edible flowers with a cheeky bite