Green Onion Landscaping design and install low maintenance gardens for a huge variety of people – The elderly, disabled, rental landlords and for that matter those who are simply not green fingered. Low maintenance gardens still offer huge rewards, and most importantly are still aesthetically pleasing, structurally stunning and therefore provide a beautiful place for you and your family to be calm and relax.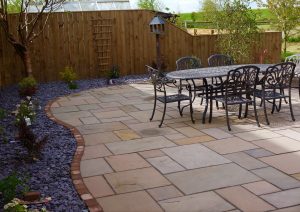 Low maintenance gardens
Provide calm and serenity and most importantly do not take an awful lot of looking after. Many of our clients' struggle to maintain their gardens and become overwhelmed when trying to make their gardens low maintenance. That's why we are here to do all the hard work for you. Green Onion's team of expert landscape gardeners know exactly how to design and install stunning, low maintenance gardens for you.
How to Create low maintenance gardens
Keep plant variety down to a minimum – It's that simple. The fewer plants you have in your garden the more time you will have to enjoy it. You could even go one step further. Why not remove all plants and use decorative stones, gravel, water features or statues as focal points instead. There's hardly anything more low maintenance than that! If you're not fond of gravel, there are of course more options.
What can I plant in my low maintenance gardens
You could plant evergreen shrubs, or you could add some colour by introducing a few plant pots or hanging baskets. Make sure to only use a maximum of two types of plant to cut all the garden maintenance work down to a minimum. How about a beautiful garden ornament or water feature these provide great low maintenance gardens and provide something stunning and structural for you to look at.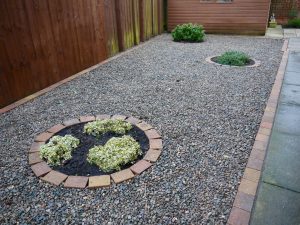 Leave real turf lawns out of the picture completely
Real grass lawns demand lots of attention. They are not a friend of the low maintenance gardener. If you really feel the need to have some turf then why not opt for an artificial lawn, these require must less attention and look great all year round. Green Onion landscaping provide and install artificial turf lawns.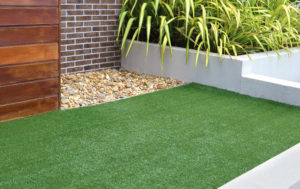 Other ideas for your low maintenance garden
Create gravel paths with weed membrane underneath the gravel. Make the paths 4 to 8 feet wide. They will prevent weeds from growing and will help excess water drain faster. Add paving stones, flagstones or other decorative stone to improve colour and texture of your low maintenance gardens.
Create seating areas in your new low maintenance gardens. Transform designated compost, rubbish bin and/or tool storage areas into gravelled areas for garden benches. Always use an eco friendly weed killers such as vinegar products or flame weeders to keep these areas neat and free of weeds.
Replace what remains of your lawn with raised sleeper beds. For an all-year-round good look, plant evergreen and native border shrubs, bulbs, and perennials. Keep it simple.