Composite & Timber Decking
Garden decking has grown in popularity in Teesside, Tees Valley, Durham and North Yorkshire. Green Onion Landscaping offer their decking quotations free of charge. Give us a call, we'd love to design and install your garden decking project for you.
Green Onion Landscaping's friendly, professional team of garden decking installers have the skills and experience to design and construct any size and shape of garden decking in your garden. If you're thinking of installing a modern composite decked area or a traditional softwood or hardwood garden decking area then please give use a call. We have lots of garden decking design ideas that will transform your garden into a beautiful, tranquil, outdoor living space.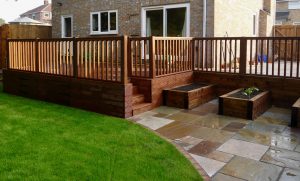 Green Onion Landscaping have over 25 years of experience working with timber decking and composite decking. Our team of landscapers are confident and professional and have built hundreds of beautiful, bespoke decking spaces in gardens all around the North East. We will happily design and install a wonderful, bespoke garden decking area to your specifications.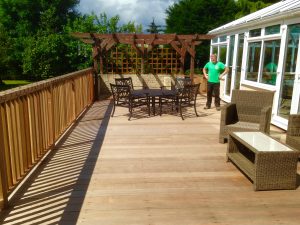 What materials can my decked area be made from:
Composite – Composite decking is a man-made product that includes an approximate equal mix of recycled wood fibers and recycled plastic. The advantages of composite decking products are that they are durable and impervious to rot, they have a much longer lifespan than wooden deck materials.There is also a huge range of colours and styles of composite decking for you to chose from, here are just a few.
Hard woods – Cedar wood, Tiger Wood, Ipe, Teak,Cumaru – Generally speaking, timber is split into two main types: hardwood and softwood. Hardwood timber, which is used for hardwood decking is sourced from slow growing trees. Hardwoods are stunning to look, feel fabulous under foot, smell devine and always, always create a stunning hardwood decked area. Hardwoods are expensive however the results speak for themselves. You can't beat the look, texture and smell of a hardwood decking area.
Softwood timber – Softwood comes from faster growing, evergreen or coniferous trees such as Pine trees. Although softwood is a cheaper, more economical decking solution, if you are investing in your garden for the long term then you really ought to use hardwood timbers. This will prove far more economical in the long term. Although softwood will look great when you first install it, it will typically start to show real signs of decay after a couple of years. Hardwood timbers, on the other hand, with a bit of maintenance, will last you for many years to come. In fact some varieties will even start to look better as they age.
Look and Feel of wood vs composite
Composite and wood decking materials come with a range of options and have their own benefits and drawbacks:
Composite decking is much less slippery than timber it's also available in a range of colours and finishes. The finish is also considerably more consistent. Every composite board is the same colour and texture.
Composite decking will keep the same look and colour for longer without the need for ongoing maintenance. If you're looking for a low maintenance, hassle-free deck this is the better choice for you.
Timber decking can have colour variations due to wood's natural wood and knots.
Many of our clients prefer the look and feel of real wood, or the luxury of a hardwood deck. That's understandable, wood does looks great and it smells fantastic too.
Timber decking colours are also more limited. You can change the colour of your wooden decking with stains or decking paint if required.
Ultimately, decking material choices comes down to personal preferences. If you would like a non-slip, child-safe decked area that only requires an annual jet wash to keep it looking smart, composite decking is the winner for you.
If you prefer a traditional look and natural feel that you will not need to replace, timber decking is the best option for you.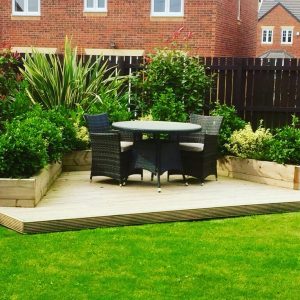 Call Green Onion Landscaping to help you decide between the two materials we're always happy to help.
We can design traditional out door decked areas, contemporary hard wood or composite decked areas. If you live in Stockton-on-Tees, Middlesbrough, Darlington, Durham or North Yorkshire we are the decking installers for you. Green Onion Landscaping's team of skilled landscapers work all year round. Our installers are able to construct outdoor structures in any weather. Most deck woods are treated with special preservatives thus preventing the wooden boards from shrinking or warping in the rain.
Below is a composite decking project we installed in Wynyard Stockton on Tees. We can design and install your choice and style of decking anywhere in your garden in Teesside, Tees Valley, Durham or North Yorkshire.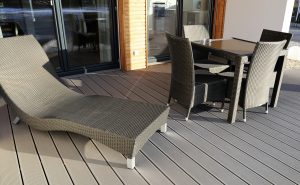 The photograph below shows one of the many Cedarwood timber decked areas Green Onion Landscaping's talented team of landscapers have constructed in Middleton St. George Darlington, Tees Valley.
Below is a photograph of a standard soft wood deck area we constructed in Ingleby Barwick, Thornaby, Stockton on Tees, Teesside.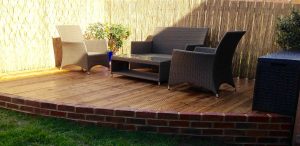 Let us know your garden decking ideas and our team of experts will lovingly create these for you.
Here's some great ideas to think about incorporating into your new decked area:-
Hidden storage – Great for quickly putting away your garden cushions overnight, or for storage over the winter months.
Seating – Always a brilliant idea to incorporate additional seating on a decked area. Why not let us be doubly clever and design the seating with added storage too.
Planters – Wooden planters built in to your garden deck area are beautiful. Add colour, dimension and aroma with one of our great creations.
Bannisters – Great for extra support, especially for your young children, elderly relatives or disabled people.
Railings – These can create a contemporary look and feel to your garden decked area by using an array of suitable materials.
Steps – Great idea if your garden deck is raised.
Ramps – To provide easy access for the elderly or disabled.
Pergolas – A beautiful touch to provide shade and a hint of romance in your garden
Privacy screens- These do what they say on the tin! Brilliant to create zones on large garden decking.Below is a photograph of a Cedar wood decking area we constructed in Whinney Hill Stockton, Cleveland, Teesside.
Call Green Onion Landscaping for your free hardwood, timber or composite decking quotation 01642 640303 / 07701097196
We specialise in:
Decking design

Decking installation

Curved decking

Decking protection

Sustainable wood sourcing
Decking projects and blogs
Get in touch today
We'd love to help you bring your ideas to life!