Green Onion Landscaping, Hard and Soft landscaping Design in Whinney Hill, Stockton, Teesside.
Mr. & Mrs. Smyth commissioned Green Onion Landscaping to design and create a beautiful hard and soft landscaping design which would include a very large curved sandstone patio area, close board fencing, turfing, a large elegant Cedar wood decking area with railings, soft landscaping, and some tree surgery.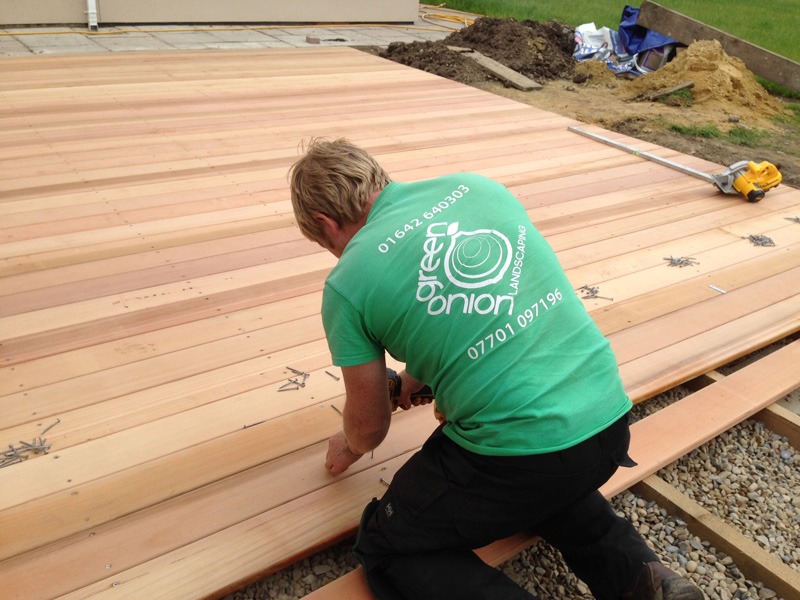 Green Onion Landscaping was asked to build a garden landscape using our hard and soft landscaping skills which is always brilliant. There's nothing better than having an opportunity to dress a hard landscape. A completed hard landscape design will always look so much prettier with plants and hanging basket added.
Hard and soft landscaping
Our skilled hard and soft landscaping team created a fabulous outdoor living space for this family in Whinney Hill, Stockton. The Cedarwood decking is elegant, the sandstone patio is beautiful and the newly planted shrubs, trees, and hanging baskets add glorious colour, texture, and aroma to the completed hard and soft landscaping design.
You can read more about this particular cedar wood decking project and our hard and soft landscaping in Stockton by clicking here.
The completed hard landscaping project

Just look at that decked area, it's amazing and huge. The colour of the Cedarwood is stunning. It feels soft and warm underfoot and it looks like a total luxury. Cedarwood decking is the most beautiful wood that anything outdoors could ever be constructed from.
Cedarwood decking smells fantastic, it feels fantastic and it looks stunning. It creates a peaceful area that becomes a living work of art. The knots and shades of colour in the Cedarwood bring the decking to life.
If you're considering adding some decking to your garden landscape Green Onion Landscaping highly recommends using Cedarwood. There's nothing quite like it for a decked area.
Our supplier of Cedarwood was so impressed with our elegant decking makeover that they decided to use it on their website to promote their Cedar decking wood.
If you'd like to read more about Green Onion Landscaping's decking project in Stockton-on-Tees, Teesside, and see more before and after images of this fantastic Cedar wood decking area please click here.
Beautifully designed patio, borders & lawn by Green Onion Landscaping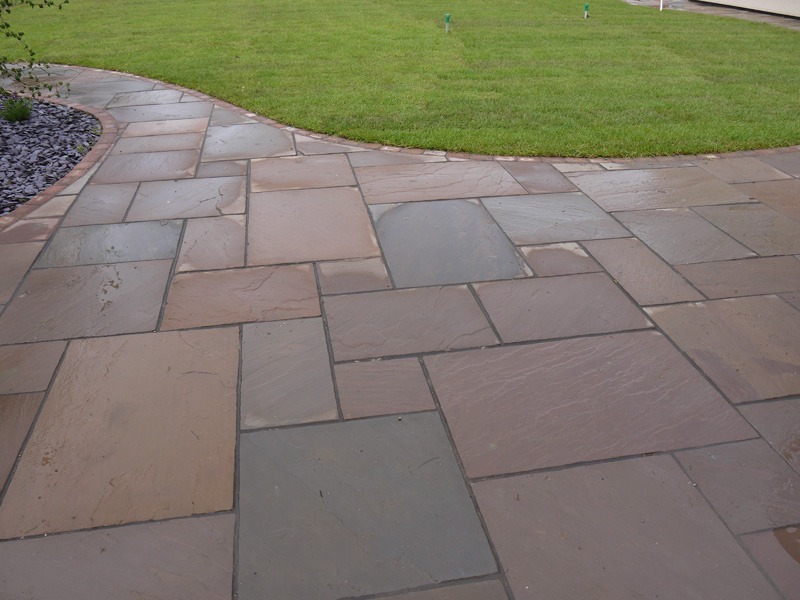 Green Onion Landscaping created this garden hard and soft garden landscape for the Smyth family so that they can entertain their friends and family in their garden as well as inside their home. The result of the landscaping project is beautiful. An amazing outdoor space has been designed and created using the highest quality landscaping materials.