Brick walls and brickwork
Green Onion Landscaping construct brick walls and carry out professional brickwork in Stockton- on -Tees, Darlington, Durham, and Middlesbrough.
Green Onion Landscaping has over 28 years of experience in the building brick walls, general garden construction, and the garden landscaping business. A brick wall is a simple and effective way to create a boundary and keep your property or garden safe from intruders as well as making it look beautiful. Brick walls can help to add different levels to your garden giving an impression of a larger garden and more space. Walls add architectural structures to gardens.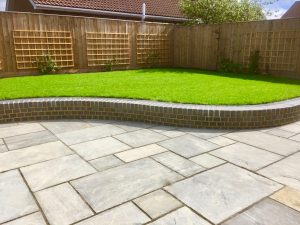 Brick walls, flower beds, raised flower or vegetable beds come in all shapes, sizes, and styles. Green Onion Landscaping can help you to design your brickwork based on your individual preferences and the garden or property space you have available. We have built a range of retainer, raised beds, block, and brick walls for our clients in Teesside TeesValley and County Durham. We are happy to build any style of brick wall that you desire to complement your garden or property. We specialise in building garden walls and constructing brick walls of all designs and sizes. Any brickwork or brick walls built by our friendly and experienced team will always tie in with your existing property and garden's brickwork.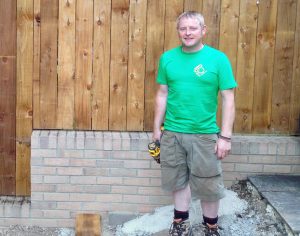 We carry out a free brick matching service to ensure that any brick walls we build with match your existing property. Green Onion Landscaping is hard and soft garden landscaping professionals, we work quickly, professionally, and tidily giving a fantastic result to all your brickwork. Building a brick wall can be one of the most expensive of garden landscaping jobs, however, if your brickwork and garden walls are built by professionals like Green Onion Landscaping, they should last you a lifetime and will be a worthwhile investment.
Brickwork should always be carried out by a professional bricklayer
Using Green Onion landscaping's qualified and experienced bricklayers will guarantee you a seamless, clean building job. We are asked to build garden walls for many different reasons. Perhaps you need a boundary wall building, a decorative garden wall, a brick-built seating area, a brick-build garden barbecue area, or some raised flower/vegetable beds.