Composite & Timber Decking
Garden decking has grown in popularity in Teesside, Tees Valley, Durham, and North Yorkshire. Green Onion Landscaping offers their decking quotations free of charge. Give us a call, we'd love to design and install decking in your garden.
Green Onion Landscaping's friendly, professional team of garden decking installers have the skills and experience to design and construct any size and shape of garden decking in your garden. If you're thinking of installing a modern composite decked area or a traditional softwood or hardwood area then please give us a call. We have lots of design ideas for decked areas that will transform your garden into a beautiful, tranquil, outdoor living space. View more of our landscaping work on our Facebook page.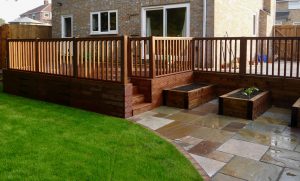 Green Onion Landscaping has over 28 years of experience working with timber, hardwood and composite decking. Our team of landscapers are confident and professional and have built hundreds of beautiful, bespoke decked spaces in gardens all around the North East. We will happily design and install a wonderful, bespoke garden decking area to your specifications.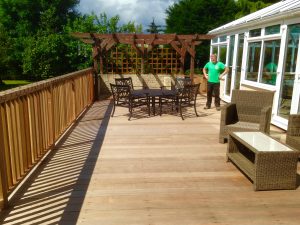 What materials can my decked area be constructed from:
Composite – Composite deck boards are a man-made product that includes an approximately equal mix of recycled wood fibers and recycled plastic. The advantages of composite products are that they are durable and impervious to rot, they have a much longer lifespan than wooden. There's also a huge range of colours and styles of composite decking for you to choose from, here are a few examples.