Turfing
Green Onion Landscaping supply, deliver and lay turf lawns all year round. We are confident that we can supply you with turf cheaper than you can buy it yourself.
Turfing your garden with top quality turf products such as Rowlawn turf will always provide you with a luscious, stunning lawn area in your garden space. No matter where you live a beautiful, top quality turfed lawn will make your garden space look and feel more like a home. Laying a new lawn from turf is a fast way to get an instant beautiful new lawn. Although laying turf is a quick way to achieve lawn cover, ground preparation and soil preparation before laying new turf is extremely important. You can not lay turf on ground that is uneven and bumpy. You need a nice flat ground surface for your new turf lawn to sit on. You also must not walk on a newly turfed lawn until it has rooted and settled. This can take a few weeks.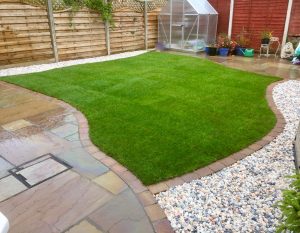 Turf is best laid in mid-autumn, however it can be laid between mid-autumn and late winter, whenever the garden soil is not too wet or frosty/frozen. The advantages to turfing in Spring and Autumn is that little mowing is needed, this means your newly-laid turf can be left fairly undisturbed for several weeks.
Turf laid in Spring needs watering. In dry spells always water your new lawn. Dry soil and mowing before grass is fully rooted will stress your new turf and delay it from rooting. Mowing turf before it has rooted and settled will completely ruin it.
Aftercare
In dry weather, frequent watering may be necessary to keep the new turf constantly moist.
During dry periods in mid- to late summer, water every other day. At other seasons water during dry periods.
Be careful not to over-water your new turfed lawn, this can lead to shallow rooting of your new lawn. It also encourages the weed grass – annual meadow grass.
Always mow a newly turfed lawn with the blades set high. Mow only when the new turf has rooted and is settled i.e when the grass has grown to about 5cm (2in).
Problems
You won't encounter any problems with your newly turfed lawn if you follow these instructions.
D0 not EVER walk on a newly turfed lawn.
Keep your new turfed lawn moist, especially in dry, hot weather.
Do not mow the new lawn until the turf has knitted/rooted
We love a nice real turfed lawn. Let us lay your new turf lawn for you, we work in Teesside, Tees Valley, Durham and North Yorkshire.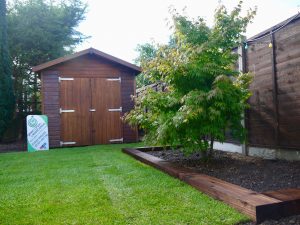 Let Green Onion Landscaping enhance your garden space with our top quality lawn products , you won't regret it. This page shows you a small selection of some of the beautiful grass lawns and turfing jobs we have carried out across the Northeast i.e Yarm, Ingleby Barwick, Hartburn, Fairfield and Wynyard.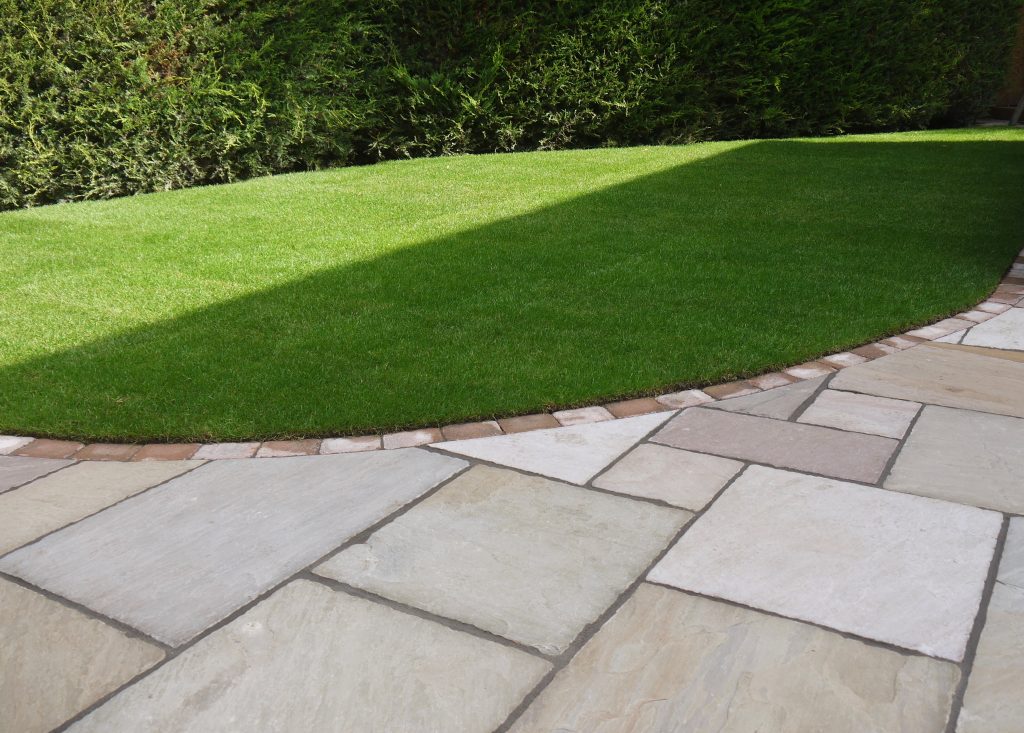 Green Onion Landscaping supply, deliver and lay turf all year round. We are confident that we can supply you with turf cheaper than you can buy it. We will deliver your new top qualityturf to any address in Stockton and Darlington, Teesside, Tees Valley, North Yorkshire or Cleveland.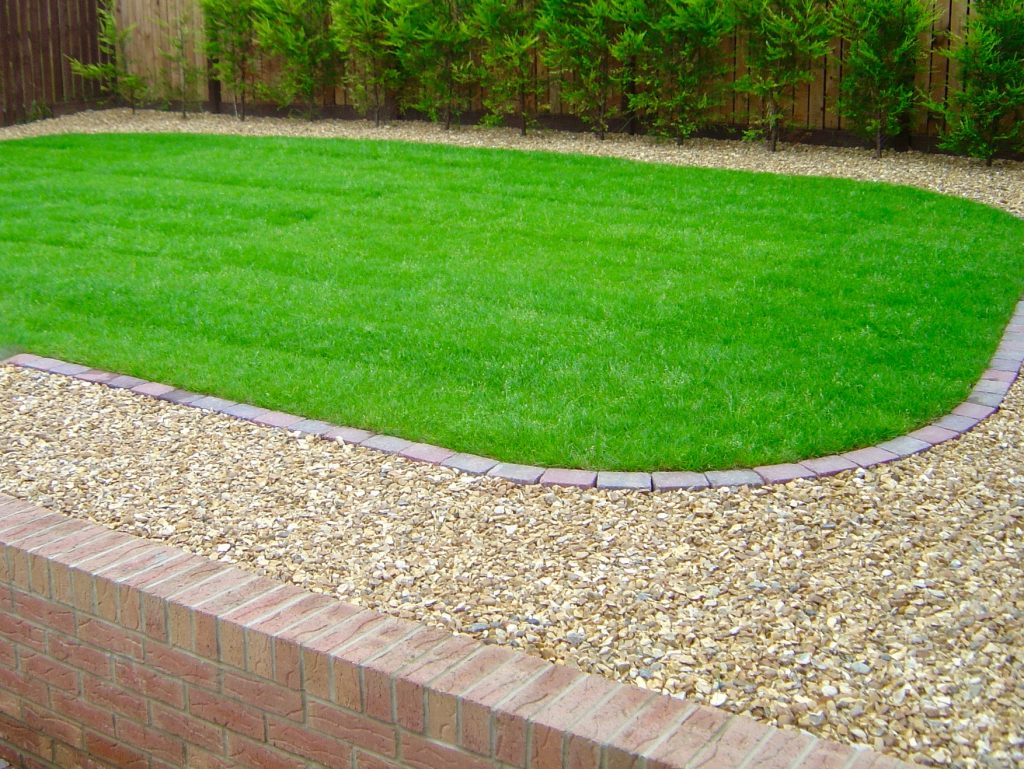 All of us should really try to keep a little green in our lives. Turfing and a new garden lawn if nothing else provides our children somewhere to play in the summer and provides a beautiful grass area for the adults to relax on the occasional sunny day we have.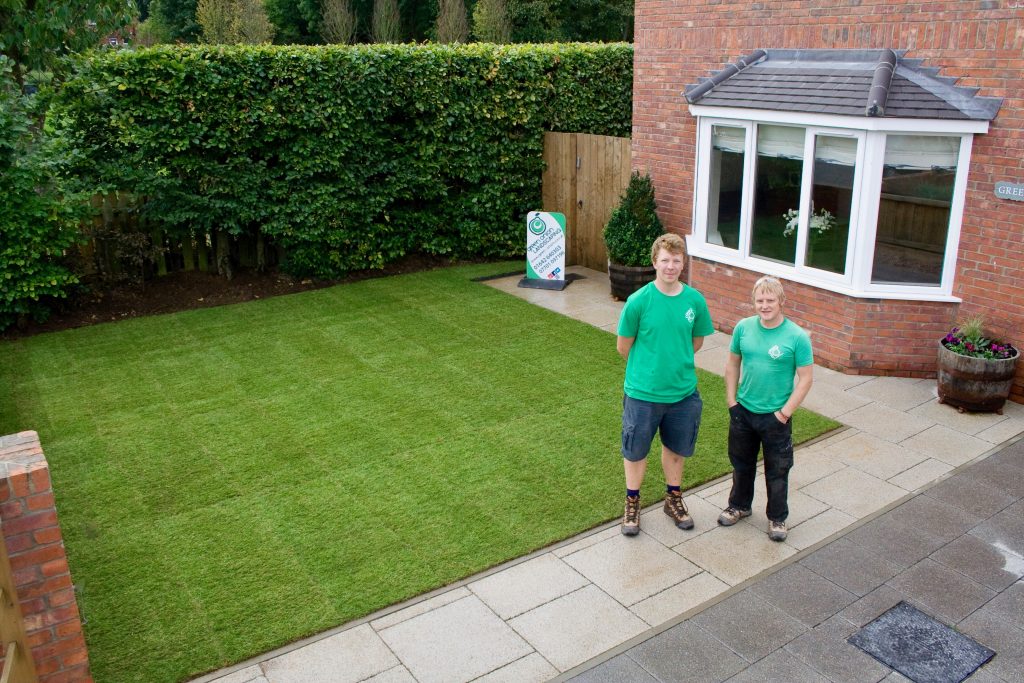 Real grass lawns provide you and your family somewhere special to relax on a lovely day; a place you can call your own and shut out the world while you all relax or enjoy family time together.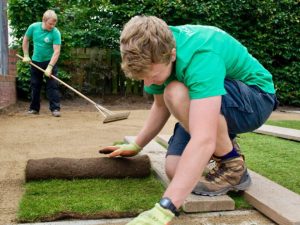 Every home and garden needs its own lawn, and turfing is usually the best option. Look how stunning these lawns look and all of these were supplied and expertly laid by Green Onion Landscaping. We also provide lawn care packages.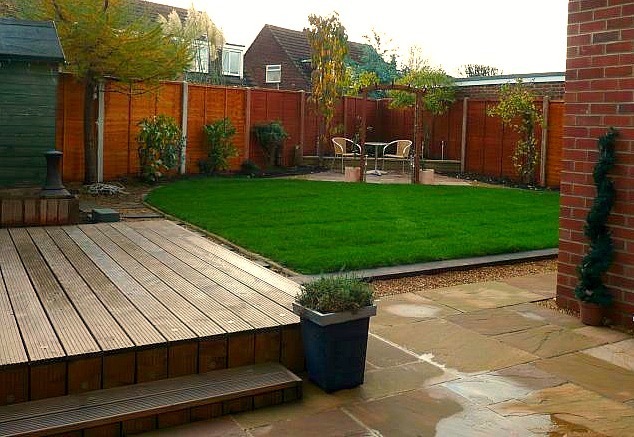 Green Onion Landscaping have worked on many garden lawn turfing projects, therefore we are always pleased to pass on our professional turfing experience to you when we visit your garden.
Call 01642 640303 / 07701097196 for your free turfing quotation
We specialise in:
Supplying and laying turf

Recommending the most appropriate time to lay the new turf

Ground preparation

Ground levelling

Lawn care

Garden maintenance
Turfing projects and blogs
Get in touch today
We'd love to help you bring your garden design ideas to life!