Artificial lawns & fake grass
Find out how you can ditch that lawn mower!
Green Onion Landscaping's artificial lawns and our installation service is second to none. Our artificial lawn installation team will only use the highest quality artificial grass lawn products. Our friendly team of garden landscapers are trained to install your artificial grass lawns to the best standards available. Your neighbours' and friends' will not be able to visually tell whether your lawn is real grass or fake grass. Artificial grass. More people are choosing synthetic grass in their gardens as it requires less upkeep. Fake grass works well in a small space and for those who find lawn maintenance difficult or expensive. Artificial grass doesn't have to be mowed and you get a lush, green lawn all year round. You can view more of our work on Facebook here.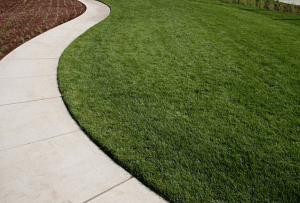 Artificial Grass is a smart solution for your lawn, it has several benefits that make it convenient for the owner.
Artificial grass always looks great in all weather conditions. This weather doesn't have a direct impact on the appearance of the turf. It will continue to stay neat, tidy, and green all year round, whatever the weather.
It doesn't require much maintenance. Artificial turf doesn't need to be watered, fertilised, or mowed.
Artificial turf is pet-friendly. It can't be dug up and spoiled by cats or dogs. It stays hygienic and unaffected by urine and is easy to clean. Animal waste is easily cleaned off the lawn using light detergent & water.
The appearance of synthetic grass has improved hugely and many higher-end products have a very convincing natural grass appearance. Artificial turf can look and feel as good as the real thing if you choose the correct product.
Green Onion Landscaping is the most talked-about installer of imitation grass lawn products in the North East. It's no wonder, we pride ourselves on the fact that all of our team are trained to the highest of standards using the newest artificial lawn laying techniques available.
Green Onion Landscaping not only provides all their clients with the very best artificial lawn products available on the market but with our friendly, professional, quick, cost-effective installation services too. We are confident that our landscaping work is far superior to any other landscapers in Teesside, Tees Valley, County Durham, and North Yorkshire. Children and dogs love our artificial lawns too – Look!